Week In Review: Nov 21-27
I had med school gigs on both Monday night and Tuesday morning this week which were fun but made getting ready for Thanksgiving even more hectic. (I'm a standardized patient at two local medical schools.)
Tuesday I made homemade dinner rolls for Thanksgiving. I was going to make buttermilk rolls but my grocery store was out of wheat germ so I just made regular white. Is wheat germ a popular Thanksgiving item?
Wednesday I made the mashed potatoes and sweet potato casserole. The boys were off school and super wound up about Thanksgiving. I'm lucky I got anything done. That afternoon the boys and I picked up my very best friend since kindergarten at the airport. She was just in for a short weekend with her family so I was able to spend time with her by picking her up and then driving her the hour and a half to our home town. (I dropped the boys off at Travis's office on the way.) I hadn't seen her in about four years!
On Thursday we had my mom and brothers, Travis's mom and sister and my mom's boyfriend and his mother over for Thanksgiving. Since West doesn't take an afternoon nap anymore, I scheduled dinner a little later and I didn't have to get up til 8am to get the turkey in. My mom's boyfriend's mom, Norma, is sort of senile. She told us that she has a Stradivarius violin worth millions of dollars which I do not think is true. At one point she cornered my mom and was badgering her about when my mom, who is in her sixties, was going to get married to her boyfriend (Norma's son).  I thought that was hilarious! Even when you're in your sixties, you can't escape the pressure to get married!
Friday was a day for relaxation! You could not pay me enough to get out there in the Black Friday craziness. We did leave the house to watch The Muppets in the afternoon. That was a great movie – we all liked it. Even West, who is VERY easily scared by most movies (even Finding Nemo), thought that it was good and didn't get scared at all.
Saturday we decorated our tree and then we went on a journey looking for Santa. First we went to a shopping center just about a mile from our house that has a great Santa, only to find out that Santa doesn't come there until December 3. We resigned ourselves to going to the pathetic Santa at a dead mall a couple of miles in the other direction when one of my friends reminded me that there is a good Santa at Bass Pro Shop. We headed over there and found the line was two hours long! Luckily they have a "Bass Pass" that lets you cut to the front of the line if you come back later, like the Fast Pass at Walt Disney World. We came back after we went out to dinner and didn't have to wait at all.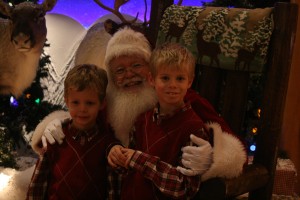 Sunday I woke up feeling worse than usual so I spent most of the day after church in bed snuggled up with my new electric blanket. (Why have I never had one before – it's awesome!) I'm so glad that my Mayo Clinic visit is only a week away now.