Polygamy Week and Other Ramblings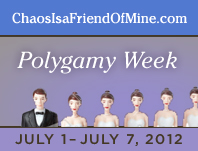 This week is Polygamy Week at Chaos Is a Friend of Mine! I'll have a place to link up your reviews about books that are related to polygamy on all my reviews this week. Feel free to link up either a new review or one from your archives.
In other non-bookish news, I've decided to go vegan this week as an experiment to see if it helps heal my Crohn's disease. It's a good time because my boys are at their grandparents this week so there is no one to here to bitch about me cooking new recipes. I'm dusting off my running blog to keep track of what I eat and how it makes me feel. I'll also post links to the recipes I make this week there.