Guest Post and Giveaway from Geoff Rodkey, author of Deadweather and Sunrise
Welcome to Stop #7 on The Chronicles of Egg Blog Tour! Author Geoff Rodkey is currently on a blog tour to promote the paperback release of the first book in The Chronicles of Egg series, Deadweather and Sunrise, which I reviewed yesterday. In today's post Geoff introduces us to Guts, a one-of-a kind character with a one-of-a-kind name. Don't forget to scroll to the bottom of this post for a great giveaway I am hosting and to find out where in the blogosphere Geoff will be next! Welcome to the Chaos Geoff!
****************************************
MEET GUTS
Every hero could use a sidekick, and Egg Masterson — the frequently bewildered 13-year-old at the heart of Deadweather and Sunrise — needs one more than most. Alone in the world and on the run for his life, Egg stumbles from one life-threatening situation to the next until he falls in with a crew of vicious pirates who decide forcing him into a fight to the death with a feral cabin boy would be a fun way to spend an afternoon.
Which is how Egg winds up meeting Guts, his foul-mouthed and possibly deranged new best friend. Although his first impression isn't encouraging:
He sprang up fast, short and skinny, eyes darting under a mop of tangled hair that fell below his shoulders and was so blond it almost looked white. His head and limbs moved in unpredictable, spastic twitches, like a trapped and desperate animal.
He might have been nine or sixteen or anything in between. It was hard to tell. I'd never seen a human move like that. If someone had told me his father was a wolf, I would have believed it.
He was in such constant motion that it wasn't until he'd been herded into the far corner of the ring that I realized his left hand was missing. At the end of his forearm, right where the left wrist should have been, his arm suddenly ended in a rounded-off stump.
That fight to the death comes to a sudden and premature end–although not before Guts nearly bashes Egg's head in with a cannonball–and when the two adversaries find themselves washed up on the same deserted beach, Egg tries to make peace. It doesn't go well:
I started over to him…there was nothing on the beach except sand, trees, me, the barrel, and Guts.
I was close enough to see the ragged tears in his breeches when he sat up in his usual quick, jerky motion and snarled at me.
"Sod off!"
I stopped. "Or what? You'll hit me with another cannonball?" The swelling had
gone down some by now, but I was still bitter.
"Worse'n 'at." He held up a knife.
"Where'd you get that?" I was glad he hadn't had it during our fight.
"Sod off!" he yelled again, swiping the knife through the air.
"Don't be stupid. I'm done fighting you."
"No'f ye get any closer."
I sighed and held out my hand. "Let's call a truce–"
"Nuts to that! Jus' want the water!"
So that was why he'd taken the barrel. I had to admire his survival instincts. He'd washed up on the beach with fresh water and a knife. All I'd done was lose my shoes.
Eventually, these two will be inseparable. But it's going to take a while–and the intercession of at least one wild boar…
****************************************
Thanks so much for stopping by Geoff! About Geoff Rodkey: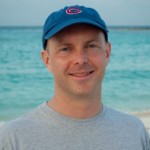 Geoff Rodkey is the author of the Chronicles of Egg middle grade adventure series and the Emmy-nominated screenwriter of such hit films as Daddy Day Care, RV, and the Disney Channel's Good Luck Charlie, It's Christmas.
Geoff grew up in Freeport, Illinois, and began his writing career on his high school newspaper, the oddly named Pretz News. While in college, he was an editor of both the Harvard Lampoon humor magazine and the Let's Go travel guide series. His early writing credits include the educational video game Where In the World Is Carmen Sandiego?, the non-educational MTV series Beavis and Butt-head, and Comedy Central's Politically Incorrect.
The first Chronicles of Egg book, Deadweather and Sunrise, was published by Putnam in May 2012. Its sequel, New Lands, comes out in the U.S. on May 2nd, 2013. The final volume in the trilogy, Blue Sea Burning, will arrive in 2014.
Geoff currently lives in New York City with his wife and three sons. They do not have any pets, mostly because the whole experience with the goldfish was just too upsetting.
***Please visit Buried in Books for the next stop on The Chronicles of Egg Blog Tour!.***
I am pleased to be able to giveaway one set of SIGNED copies of the paperback of The Chronicles of Egg Book 1:  Deadweather and Sunrise AND an ARC of The Chronicles of Egg Book 2:  New Lands (due out May 2, 2013) to one of my readers with a US or Canadian mailing address. Just fill out the form below. I will take entries until 11:59pm CST on March 19, 2013. Good luck!