Book Review: The Barftastic Life of Louie Burger
The Barftastic Life of Louie Burger by Jenny Meyerhoff
My rating: 5 of 5 stars
Publisher: Farrar, Straus and Giroux
Release Date: June 4, 2013
Publisher's Description:
Fifth grader Louie Burger figures that with a goofy name like his, he must be destined to be a king of comedy like his idol Lou Lafferman. But he's only ever performed his stand-up act in his closet, where he and his dad created the most exclusive comedy club ever—if by "exclusive" you mean that no one's ever allowed inside. With the school talent show coming up, Louie's wondering if now is his moment to kill (that's comedian talk for "make actual people laugh"). And maybe, if he brings down the house, he'll win back his former best friend Nick—who seems to be turning into one of those annoying sporty types—and fend off his dad's home-improvement obsession, which threatens to remodel Louie's comedy closet into a private bedroom for his older sister. Barftrocious!
This was a funny book that did a good job of incorporating a lesson about facing your fears and not giving up without being heavy handed. Your child probably won't even realize that this story has a moral! With Barftastic as part of the title, I was worried that this book would be over the top gross but it wasn't. There is some barfing and some barf talk but it's used sparingly.
I wouldn't call this a graphic novel – there is an illustration every few pages or so. The illustrations are a cute addition to the story. I think that fans of Captain Underpants and Diary of a Wimpy Kid will enjoy reading about Louie Burger.
(I received this book courtesy of Amazon Vine.)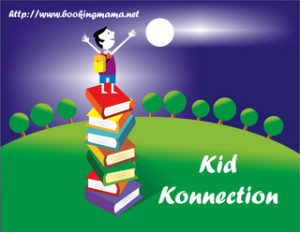 For more reviews of books for children and teens, check out Booking Mama's feature, Kid Konnection, posted on Saturdays. If you'd like to participate in Kid Konnection and share a post about anything related to children's books (picture, middle grade, or young adult) from the past week, you can go to her site to leave a comment and your link .
September 26th, 2013 in
Books