Author Event: Garrison Keillor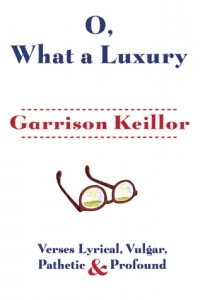 Tuesday night, my dad and I went to see Garrison Keillor read poetry from his new book, O What a Luxury: Versus Lyrical, Pathetic & Profound. The event was sponsored by Rainy Day Books.
Publisher's Description: O What a Luxury: Verses Lyrical, Vulgar, Pathetic & Profound is the first poetry collection written by Garrison Keillor, the celebrated radio host of A Prairie Home Companion. Although he has edited several anthologies of his favorite poems, this volume forges a new path for him, as a poet of light verse. He writes—with his characteristic combination of humor and insight—on love, modernity, nostalgia, politics, religion, and other facets of daily life. Keillor's verses are charming and playful, locating sublime song within the humdrum of being human.
Most of the poems he read were really funny – I'm sure his delivery made them even more humorous than if you just read them yourself. The one he wrote for his wife when she was in the first trimester of her pregnancy was not only funny, but spot-on. I was a little surprised that a man could empathize so well with what a woman goes through in pregnancy. A few of his poems were quite political, which I didn't mind at all since we're on the same side. I wouldn't call myself a Garrison Keillor fan – I've never read any of his books and only listened to him on NPR a few times – but I enjoyed myself quite a bit at this event. My dad and I talked to him afterwards and he was so nice and seemed genuinely interested in what my dad (a Garrison Keillor super-fan) had to say. Here we all are: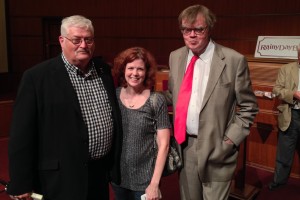 October 10th, 2013 in
Books