Book Review: Chew on This
Chew on This: Everything You Don't Want to Know About Fast Food by Eric Schlosser
Publisher: Houghton Mifflin
Paperback Release Date: 2007
My rating: 5 of 5 stars
Publisher's Description:
In the New York Times bestseller Chew on This, Eric Schlosser and Charles Wilson unwrap the fast-food industry to bring you a behind-the-scenes look at a business that both feeds and feeds off the young. Find out what really goes on at your favorite restaurants—and what lurks between those sesame seed buns.
Chew on This is written by the author of Fast Food Nation – it's like the young adult version of Fast Food Nation. According to Amazon, it's geared to children twelve years old/seventh grade and up. One word of warning – the secret behind Santa is revealed in this book. Probably not a problem for the target audience of this book but it was a problem for my nine-year old. He reads above grade level so he didn't have trouble reading or understanding this book but he still has a 3rd grader's ideas about Santa so I was disappointed that this book gave away the secret.
Other than that, I loved this book. It really focuses on the fact that fast food is marketed primarily towards children, in ways that I hadn't really thought of before. I knew my kids like McDonald's because of the Happy Meal toys and the Play Places but I never realized how calculated all the marketing was to be geared toward children, who would then drag their parents and grandparents to the fast food restaurants with them. I'm so naive!
It also discussed the practices of factory farming of which most kids are probably not aware. I also appreciated the discussion of how they make fast food taste good – all the artificial ingredients and so forth.
I was hoping that this book would turn my son off of fast food but I didn't get that lucky. However, I think the ideas in this book will continue to rattle around in his head and when he gets a little older his food choices will be affected by what he learned in this book. I was certainly turned off of fast food after reading this book! I highly recommend this book. It would be a great book for a family book club that could be the jumping off point for a family discussion about the family's food choices – I enjoyed discussing this book with my son quite a bit.
Buy this book at:

Rainy Day Books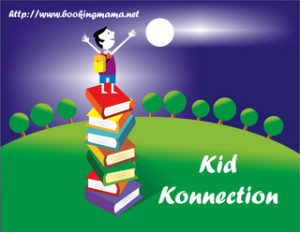 For more reviews of books for children and teens, check out Booking Mama's feature, Kid Konnection, posted on Saturdays. If you'd like to participate in Kid Konnection and share a post about anything related to children's books (picture, middle grade, or young adult) from the past week, you can go to her site to leave a comment and your link .
October 29th, 2013 in
Books