Book Review: Eleanor and Park
Eleanor & Park by Rainbow Rowell
Publisher: St. Martin's Griffin
Release Date: February 26, 2013
My rating: 5 of 5 stars
Publisher's Description:
Set over the course of one school year in 1986, this is the story of two star-crossed misfits—smart enough to know that first love almost never lasts, but brave and desperate enough to try. When Eleanor meets Park, you'll remember your own first love—and just how hard it pulled you under.
I loved, loved, loved this book. Rainbow gets teenage love exactly right. There's not too much angst or drama – Eleanor and Park are REAL. Both of them are misfits in their own way. Eleanor is chubby, doesn't dress the "right" way and comes from a troubled family. Park is half-Asian is in a basically all-white part of town. They gradually connect with one another on the bus rides to and from school, over music and comic books.
I don't think I have ever read a more authentic portrayal of high school. I felt like I was back in high school myself while I was reading it. I wish I could have been friends with Eleanor and Park back then.
You may have heard that some parents in Minnesota tried to ban this book from their kids' school district. These people must be dead inside. Also, their main concern with the use of the "f-word" in the book. If your kid hasn't heard that word by the time they hit high school, you should consider unchaining them from the chair in the locked room you keep them in.
I know this review is super gushy but this book deserves it. Love, love, love!
Buy this book at:
Rainy Day Books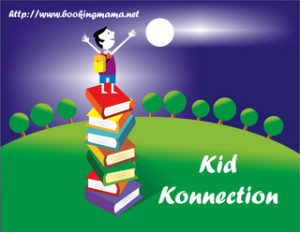 For more reviews of books for children and teens, check out Booking Mama's feature, Kid Konnection, posted on Saturdays. If you'd like to participate in Kid Konnection and share a post about anything related to children's books (picture, middle grade, or young adult) from the past week, you can go to her site to leave a comment and your link .
November 5th, 2013 in
Books