Book Review: Desmond Pucket Makes Monster Magic
Desmond Pucket Makes Monster Magic by Mark Tatulli
My rating: 4 of 5 stars
Publisher: Andrews McMeel Publishing
Release Date: October 1, 2013
My rating: 4 out of 5 stars
Publisher's Description:
Desmond's world is full of monster magic-packed with detailed drawings of custom-crafted wriggling worms, goblins that spring from toilets, and elaborate slumber party ghost scares. He's an aspiring special effects wizard with dreams of creating his own dark amusement park rides, just like the Mountain Full of Monsters at Crab Shell Pier he'll be visiting on this year's school field trip. But when Desmond takes his frightful pranks a little too far, he finds himself in trouble and his field trip privileges in danger. Can he clean up his act, while staying true to who he is?
This book is similar to the Diary of a Wimpy Kid books. There are funny cartoons throughout and plenty of gross humor that most boys will love. I think this book probably appeals to kids a bit younger than those who read the Wimpy Kid books. There are more cartoons and less words – I would think kids around 4th or 5th grade would enjoy it. Another fun thing about this book is that the cover glows in the dark.
This book is the first in a series. I'll be interested to see what adventure Desmond goes on next.
I'm giving a way a copy of Desmond Pucket Makes Monster Magic! You can enter here.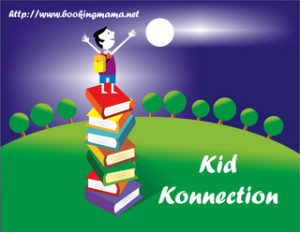 For more reviews of books for children and teens, check out Booking Mama's feature, Kid Konnection, posted on Saturdays. If you'd like to participate in Kid Konnection and share a post about anything related to children's books (picture, middle grade, or young adult) from the past week, you can go to her site to leave a comment and your link .
(I received this book courtesy of the publicist.)
November 13th, 2013 in
Books