Throwback Thursdays: Harry Potter and the Sorcerer's Stone by J.K. Rowling
Harry Potter and the Sorcerer's Stone by J.K. Rowling
Publisher: Scholastic
First Published in 1997
My rating: 4 of 5 stars
Publisher's Description:
Till now there's been no magic for Harry Potter. He lives with the miserable Dursleys and their abominable son, Dudley. Harry's room is a tiny closet beneath the stairs, and he hasn't had a birthday party in eleven years.
But then a mysterious letter arrives by owl messenger: a letter with an invitation to an incredible place called Hogwarts School of Witchcraft and Wizardry. And there he finds not only friends, flying sports and broomsticks, and magic in everything from classes to meals, but a great destiny that's been waiting for him…if Harry can survive the encounter.
Do I really even need to include a synopsis of this book?
I have been curious about the Harry Potter books for a long time but when they were first released – seventeen years ago! – I decided that I would wait to read them until I had children of my own so we could read them together for the first time. (I'm a planner.) This summer both my nine and seven year old sons decided to start the series so I did too.
My plan is not working exactly how I wanted it to though. The boys have way more free time than me and are tearing through this series. Cash, my nine-year old, finished the last book in the series this week and West, my seven-year old, is on book four. And I've still only read the first one! (I have read other books in the meantime though.) We are watching the movies together as they finish the books that correspond with each one. I don't mind the books being spoiled for me by watching the movies. And I sincerely hope that the books are better because I have not been impressed by the movies so far. More on that in later posts.
So…Harry Potter. Long-time readers know that I don't read much fantasy and when I do, I usually don't like it. I'll cut to the chase and tell you that I did like this book but I'm not a raving fan girl about it. Not yet anyway. Part of that may be that it's really hard for a book to live up to over fifteen years of major hype. I was expecting it to be the Holy Grail of middle grade fiction.
It WAS a great story, with fun characters. Even the "evil" aunt and uncle were pretty bumbling and funny, which was good because if they were darker, it would have freaked West and other sensitive children out. I think I felt more sorry for poor Harry and the treatment he got, with having to sleep in the cupboard and not getting good food, than my boys did.
The thing that bothers me about fantasy is that at times it seems too easy to advance the plot with magic. There are usually no basic rules that must be followed like in science fiction world-building. That happens a little bit in this book but not as much as in other fantasy books I've read. In one instance, Harry needs something and it magically appears in his pocket. Why? How? That kind of thing bothers me. I think my favorite magic article in this book was the mirror. I liked what it did and how it affected Harry when he looked into it.
The bottom line is that my boys and millions of other kids LOVE this book. Kids who were reluctant readers read this book and were reluctant no more. For whatever reason, this book touches kids and sparks their interest in reading. And that is the most important thing.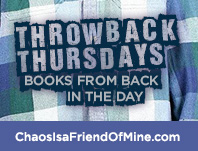 Every Thursday I host Throwback Thursdays. If you you'd like to share a post from the past week about a book from "back in the day", feel free to grab the button for your post and and link up below. Be sure and link directly to your post, not your blog's home page. Thanks!