Throwback Thursdays: A Game of Thrones by George R.R. Martin
A Game of Thrones by George R.R. Martin
First published in 1996
My rating: 3.5 of 5 stars
Publisher's Description:
In a land where summers can last decades and winters a lifetime, trouble is brewing. The cold is returning, and in the frozen wastes to the north of Winterfell, sinister and supernatural forces are massing beyond the kingdom's protective Wall. At the center of the conflict lie the Starks of Winterfell, a family as harsh and unyielding as the land they were born to. Sweeping from a land of brutal cold to a distant summertime kingdom of epicurean plenty, here is a tale of lords and ladies, soldiers and sorcerers, assassins and bastards, who come together in a time of grim omens.

Here an enigmatic band of warriors bear swords of no human metal; a tribe of fierce wildlings carry men off into madness; a cruel young dragon prince barters his sister to win back his throne; and a determined woman undertakes the most treacherous of journeys. Amid plots and counterplots, tragedy and betrayal, victory and terror, the fate of the Starks, their allies, and their enemies hangs perilously in the balance, as each endeavors to win that deadliest of conflicts: the game of thrones.
First of all, you all know that I'm not a fantasy expert. For some VERY detailed reviews by hard-core fantasy fans, check out the reviews on Goodreads. This book/series did not go over well with them in general for a variety of reasons. The most common complaint is that it's not original. Since I don't read much fantasy, that wasn't a problem for me.
Another common complaint is that it's misogynistic. I can see where this is coming from. There is a lot of rape and women in general are not treated well. I just thought GRRM wrote it that way because that's how it was in the time period this book is set in. I'm not sure what time period that is supposed to be, but I know it's a long, long time ago. One particular storyline that did bother me was the one where a young teenage girl is sold into marriage wiht a much older man, who essentially rapes her on their wedding night. Over time she grows to love him deeply. Maybe she has Stockholm Syndrome but I did not care for it even so. If you watch the TV series, you may have noticed that the women are almost always taken from behind with not as much as a kiss before hand. I can't remember if all the sex is described in the book this way, but that method puts women in a pretty submissive position. (no pun intended)
This book is very, very long, clocking in at over 800 pages. Since I have a TON of books on my reading list, it's hard for me to commit to reading a book this big. Incidentally, if GRRM would cut down his descriptions of the food everyone eats, the book could be about 200 pages shorter! However, I love the TV series and decided I should read the books as well. I thought it might make the TV show even better if I knew more about what the characters were thinking and their backstorys. It did do that. However, since this first book follows the first series of the TV show very faithfully and therefore I already knew what was going to happen, this book wasn't unputdownable. (That's a word, right?) I even put it down a few times to read other books. And even though I'd already seen the show, I still found it hard to keep all of the characters straight.
I did like that this book has a lot of surprises that I definitely would not have seen coming if I hadn't watched the show first. I also liked that even though it's fantasy, there is not a lot of magic. People aren't saved because some magical element comes out of nowhere. If you're a regular reader of mine, you know this is a big problem for me.
I liked this book and probably would have liked it more if I hadn't watched the show first. But in my opinion this a rare instance where the on-screen version is better than the book. And I will read the other books in the series at some point, my interest was held enough to want to continue. Since this is the first book in the series, it could be much like how the pilot episode of a new TV series is usually not very good because it is setting up the future of the show and introducing the characters. I will reserve more judgment until I have read at least the second book.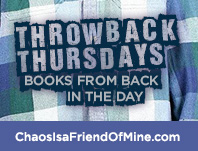 Every Thursday I host Throwback Thursdays. If you you'd like to share a post from the past week about a book from "back in the day", feel free to grab the button for your post and and link up below. Be sure and link directly to your post, not your blog's home page. Thanks!