Weekend Ramblings: Back to School Edition
You may have noticed that my blog posts were pretty few and far between this summer. I blame that on my children. With them home all day, every day it's hard to find time to read and thus hard to write reviews. My boys started school last week and my 4-year old starts preschool Wednesday and will go three full days a week. Ah, freedom! I should have more time for reading and writing and my posts should be more regular. I'm shooting for at least three times a week. Throwback Thursdays will be back consistently so be sure to visit on Thursday and link up your throwback reviews from the week. I'll also have Fashion Friday starting sometime too. More details on that to come!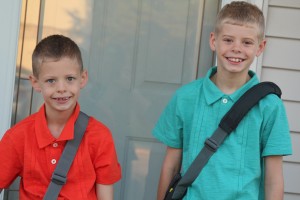 My sweeties on the boys' first day of school.