Page To Screen: This Is Where I Leave You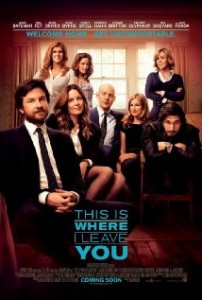 This Is Where I Leave you is adapted from Jonathan Tropper's novel of the same name. I loved the book and since Tropper himself wrote the screenplay for this movie, I had high hopes for it. I have to say it did not live up to my expectations. What made the book great was the mix of drama and dark humor. The movie didn't really have any darkness at all. There were sad sentimental moments but since the characters weren't very developed, it was tough to conjure up empathy for them. It's not that I didn't like them, I just thought they were really bland compared to their book versions.
For instance, in the book there is a very serious and tragic reason that Paull (Corey Stoll) and Judd (Jason Bateman) don't get along. That incident isn't included in the movie, making Paul a different person, not the angry man he is in the book. Also what Alice (Kathryn Hahn) does to Judd in basement is considerably toned down.
Judd's inner monologue is one of the best parts and the majority of the book. Understandably, that is hard to translate to the screen. I thought a voice-over for Judd would have added a lot to understanding him and the other characters, since a lot of his inner thoughts has to do with them. Then I read this from a  Hollywood Reporter interview with Tropper:
[Voice-over] becomes a crutch, …you have to be able to convey your story visually. If you're using your narrator to do that, you're pretty much writing your book in movie form."
I must respectfully disagree with Tropper on this point. This movie would have benefited from Judd's voice-over.
In the book, Wendy and Judd's mom Hillary have the most hilariously inappropriate lines. Wendy is droll and unintentionally insensitive but her intentions are good. Tina Fey, who plays Wendy in the movie, would have been awesome delivering Wendy's lines. Unfortunately, she didn't get the chance. The movie Wendy is softer and not as funny as the book Wendy.
Judd's mom in the book is cheerful and clueless. A child psychologist, she continuously makes her children uncomfortable talking about sex and other taboo subjects. Movie Hilary (Jane Fonda),  does get to say some of those lines but not nearly enough. She does do a good job wielding Hillary's Unbelievably large fake boobs.
Bottom line: This film played it safe and left out most parts of the book that had any emotional weight. You may enjoy it if you haven't read the book but if you have, prepare to be disappointed.