Stitch Fix Saturday: Surprise Christmas Fix!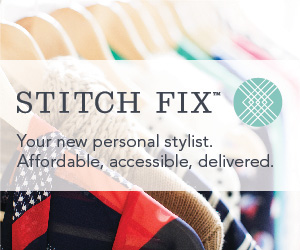 My sweet husband knows that I LOVE Stitch Fix but he wanted to give me something more personal than a gift card for Christmas. So instead, he surprised me with a Fix! He had to go though some hoops to be sneaky about it since this was a new one for Stitch Fix. But since the Stitch Fix peeps are totally awesome, they were up to the challenge. They created an account for my husband and copied all the info from my style profile into his new account. Then they made sure to assign my awesome stylist Kalesa to his account. Finally, they worked it out so that if I didn't keep all five items, my account (not Travis's) would be credited with the difference for me to use on my next Fix. Whew! Can you believe all the trouble Stitch Fix and my husband went to for me? And it worked. I was completely surprised!
If you haven't heard of Stitch Fix, let me back up and explain. Stitch Fix is a personal styling service. First, you fill out a very detailed questionnaire about your style, measurements, etc. Then you schedule you first Fix. You can schedule them to come automatically at monthly or bi-monthly intervals or just have them come whenever you'd like. Your Fix will include five items of clothing and accessories. (I have my preferences set to no accessories so I only get clothes. I don't accessorize much.) You have three days to peruse the items, try them on, mix and match them with items from your own closet and so-forth. Then you send back whichever items you don't want in the handy pre-paid envelope. There is a $20 styling fee that will be credited to your order if you buy at least one item. I've always bought at least one – usually two or three.
So what was in my Christmas Fix??
First up is the Skies are Blue Blake Cross Front Metallic Detail Blouse: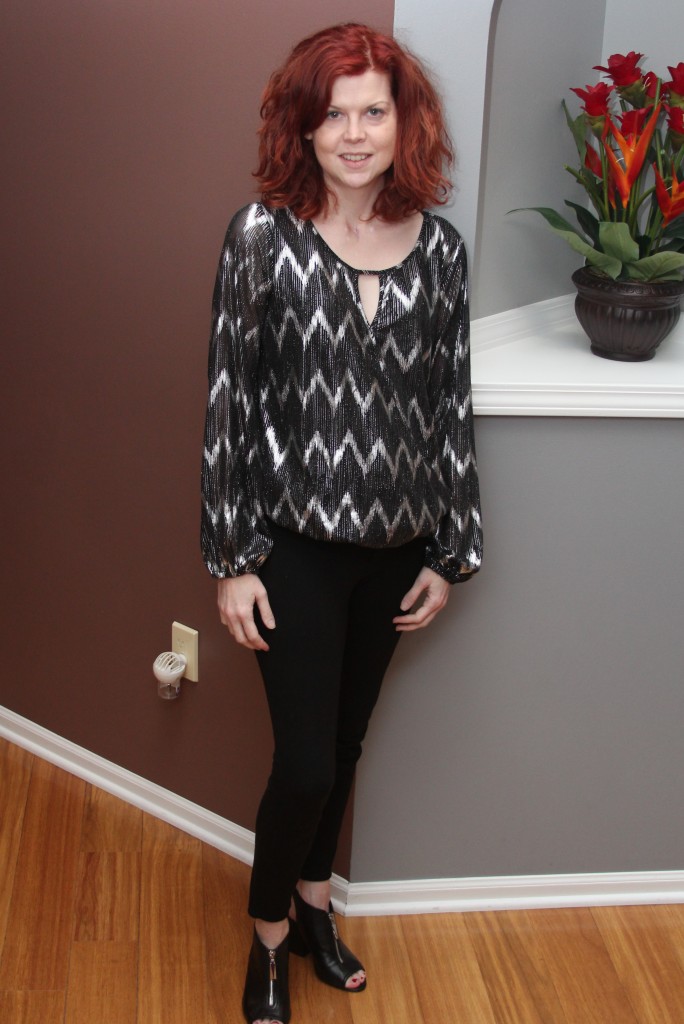 I am a sucker for all things shiny and this top is definitely shiny! I love a nice black and silver top for date night. This fits the bill. KEEP!
Next – Dylan and Rose Remington Sleeveless Geo Print Elastic Waist Dress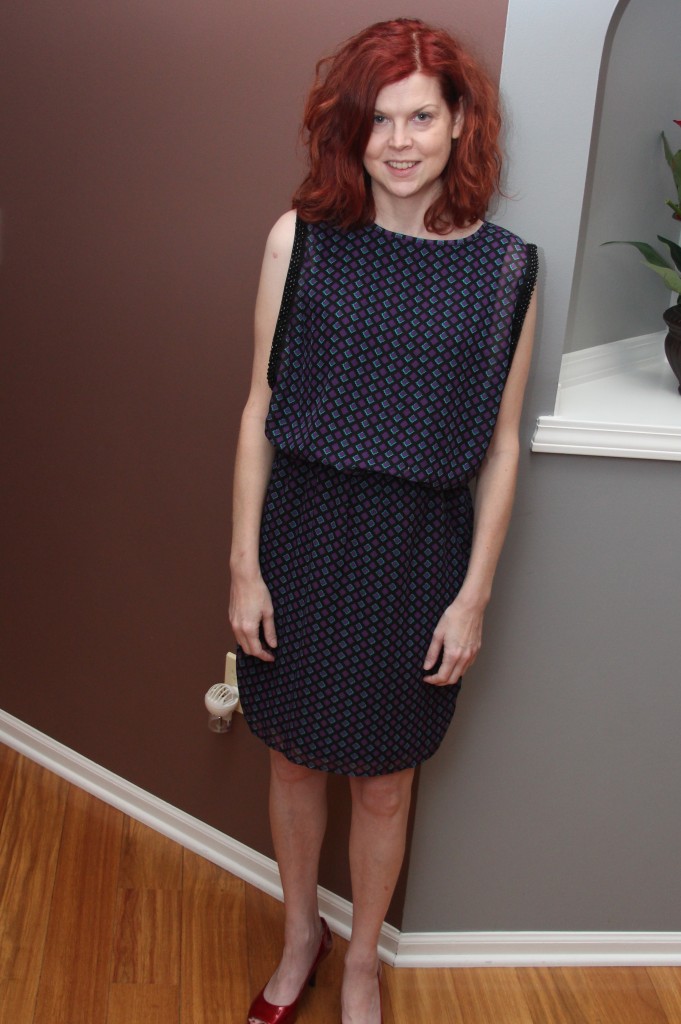 This dress actually looks better in the photo than in did in person. The top was too boxy – I looked like an inverted triangle. I do love the beading on the sleeves. It looked better with a cardigan but then the cool beading was covered up. RETURN
Next – Creative Commune Anita Cowl Neck Lace Trim Blouse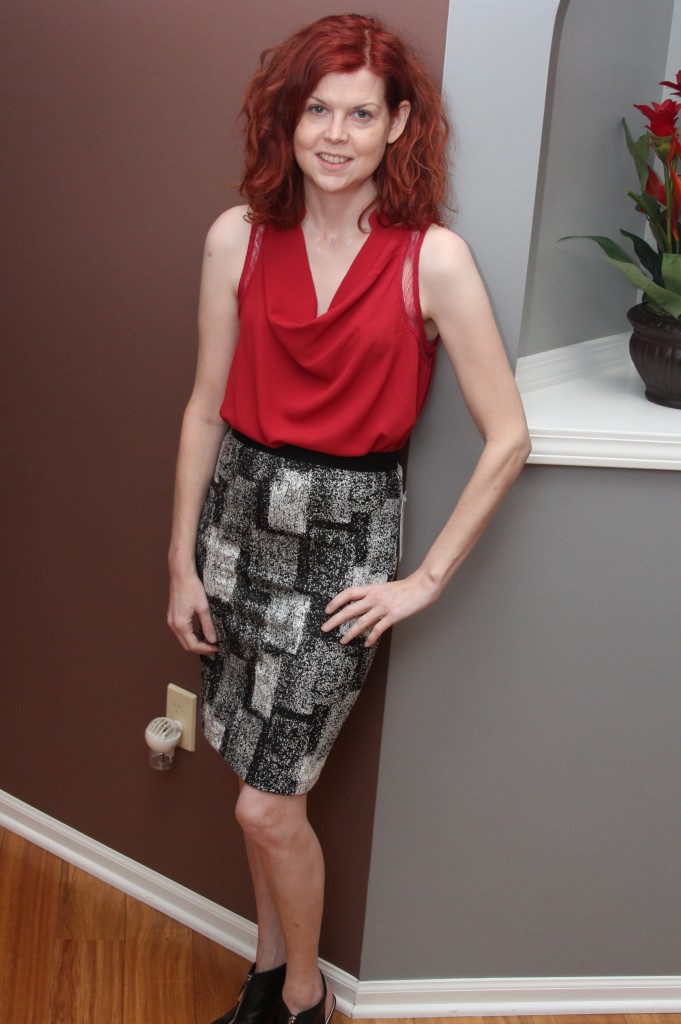 In her note, my stylist Kalesa suggested that I pair this blouse with the skirt I kept from my last Fix (which I haven't blogged about yet, I'm all mixed up!) LOVE, LOVE, LOVE. I love everything about this top and I love it even more with my skirt. This is a combo I wouldn't have thought to put together on my own, reason #257 why my stylist rocks. KEEP!
Next – Creative Commune Livie Snake Print Blouse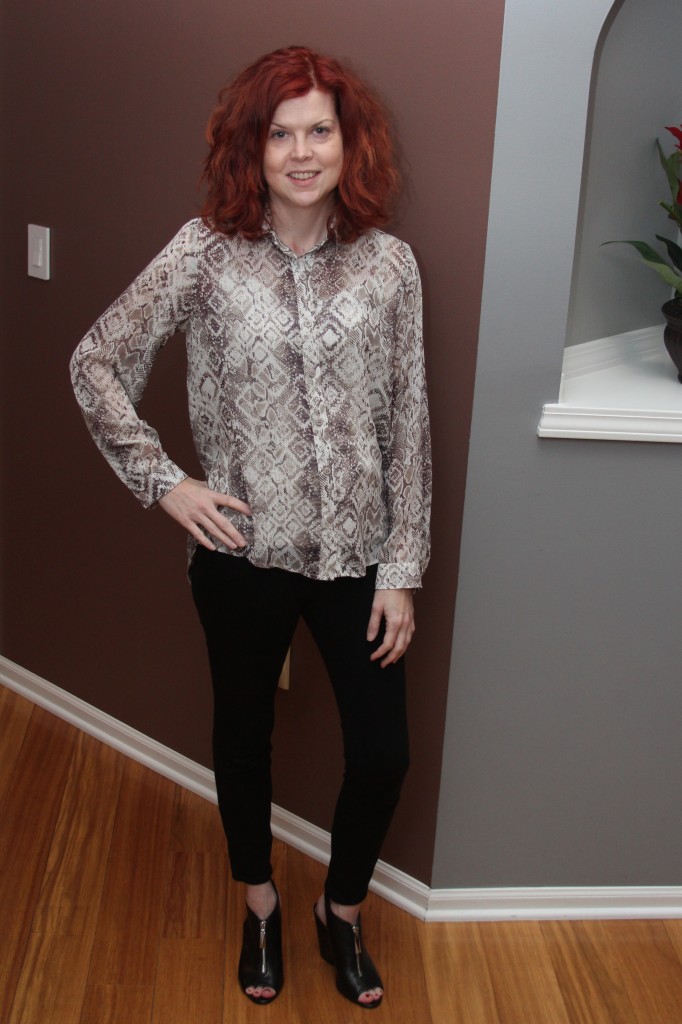 A great way to make your Fixes even more awesome is to provide your stylist a link to your fashion Pinterest board. Pin pieces you like to give your stylist inspiration when choosing items for you. Kalesa noticed that I had a few animal print tops pinned so she included this snake skin print blouse in my Fix. I liked it but the color just didn't work with my super pale skin. RETURN
Lastly – Pixley Dalila Faux Leather Lapel French Terry Vest
I've been wanting a vest for this winter and had some on my Pinterest board. I like it when pieces have unusual details like the faux leather lapels and asymmetrical zipper on this vest. My stylist suggested wearing it with a sweater from a previous Fix (the green one here) or a plaid shirt. I don't have any plaid shirts but found a really cute pink and gray one at Target a couple of days later. I love that Stitch Fix helps me add to my existing wardrobe in a productive manner. I bought the plaid shirt knowing that I already had something that would go great with it and then of course I can wear the shirt on it's own as well. I wore the vest and shirt the other day and got a ton of compliments on it. I wish I would have taken a picture! So obviously the vest was a KEEPer.
Each Fix comes with style cards to give you ideas on how to style each piece. There is usually a casual and a dressy option: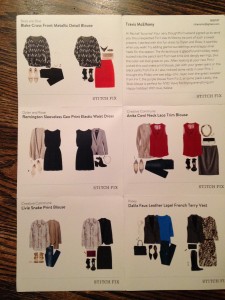 That's the end of my surprise Christmas Fix. I love the three items that I kept and can't wait to get my next regularly scheduled Stitch Fix box. If you would like to sign up for Stitch Fix, I'd love it if you used my referral link. I'll get a small credit towards my next Fix if you do. And then you can start referring your friends and earning credits too! (This is not a sponsored post – I just love Stitch Fix!)