Week In Wardrobe: GYPO Winter 2015 Style Challenge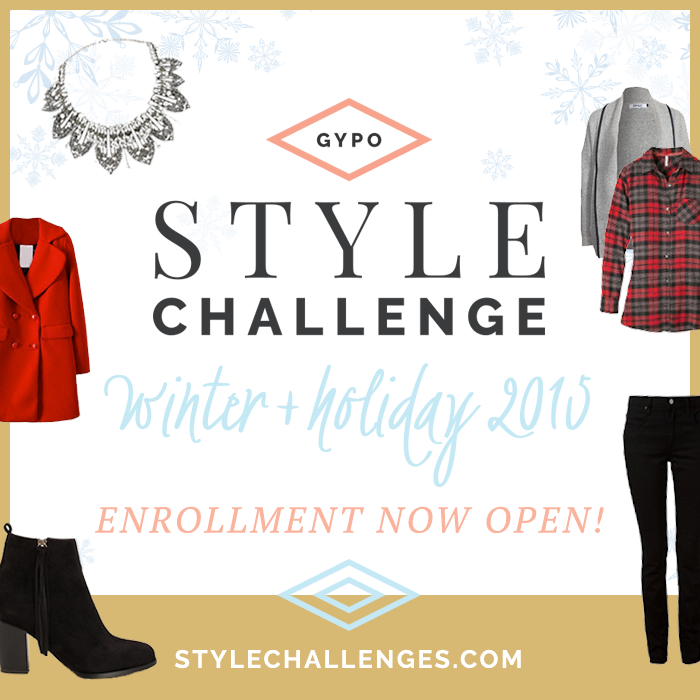 Another season means it's time for another Get Your Pretty on Style Challenge! The Winter + Holiday 2015 Challenge is now open. You all know how I love these challenges. It's amazing how wearing a nice outfit puts me in a good mood and makes me more productive. Yoga pants are so cozy that they tend to glue me to the couch!
In case you haven't seen my other challenge posts, this is how they work: You sign up for the challenge and are sent a shopping list of all the items you will need to style the challenge outfits. The challenges are not about buying an all-new wardrobe. Alison encourages shopping in your own closet for the items first. All of the items mix and match – you will be building a wardrobe "capsule". Dressing for the day becomes a snap – you have all the items needed for the outfit, just put them together and go! There is room for creativity too – you can use a different color scheme than the sample items on the shopping list or make substitutions. You will be granted access to the challenge Facebook page where you can post your daily outfits and see how other people put their outfits together. It's a fun, supportive community.
Alison says, "This is my biggest challenge yet with 26 outfits total.  You'll also get "dress it up" and "dress it down" options for every outfit on the list.  This challenge includes three holiday dress up looks perfect for all of your upcoming events."
Early Bird Registration Opens:  11/20


Early Bird Registration Closes:  11/27 at midnight ET

First Outfit Release:  12/13
You can sign up for the challenge here.
Some of my outfits from the Fall 2015 Challenge: