I'm back! 2016 Reading Challenges
Hi everyone! I guess I unintentionally took the month of December off from blogging. I'm not sure how that happened but hopefully this break has restored some of my blogging mojo.
It's the end of another reading year – time to reflect on what we've read in 2015 and do a little planning for 2016. I haven't participated in any reading challenges for the past few years – mostly because I usually fail miserabley. However, I've found a couple of challenges for 2016 that look that look fun and I'm going to give them a go.
The first is the 2016 Read Harder Challenge at Book Riot.  This challenge is made up of 24 tasks designed to stretch your reading boundaries. Example tasks are: "read a horror book" and "read a book of historical fiction set before 1900". Books can count for more than one task so you don't necessarily have to read 24 books to complete the challenge. An added bonus – send a photo of your completed task in to Book Riot and get a 30% discount in the Book Riot store!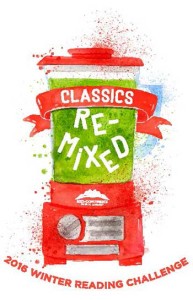 The other challenge I plan on participating in is the 2016 Winter Reading Challenge that my local library is hosting. The theme is Classics Remixed, meaning particpats will read books inspired by a classic novel like Lady MacBeth's Daughter by Lisa M. Klein or Wicked by Gregory Maguire. If you complete the challenge, you get a limited edition 2016 Winter Challenge mug. I mostly just want the mug.
How about you? What challenges are you joining in 2016?
December 30th, 2015 in
Books