Book Review and Giveaway: The Yard by Ailyyah Eniath
The Yard by Aliyyah Eniath
Publisher: Speaking Tiger Books
Release Date: April 5, 2016
My rating: 4.5 of 5 stars
Publisher's Description:
A story of love and redemption, set in Trinidad, that exposes the fault lines in Indo-Muslim culture. Behrooz is brought to a familial complex, The Yard, to live with a devout and extended family, where he struggles to belong. He forms a childish alliance with Maya, a willful and rebellious girl, and his guardian's daughter. After they share a night of adolescent tenderness, Maya, fearing retribution, flees to London. Behrooz painstakingly rebuilds his life and marries another. When tragedy strikes, Maya returns to her childhood home. There, she and Behrooz must face up to old demons. Can their love endure? Even after Maya is dealt the most righteous" blow of all?
The Yard is the family compound wherein Father Khalid, his four siblings and his elderly mother live. One day Father Khalid brings home Behrooz, an orphan boy who remembers nothing about his past. Over his extended family's objections, he and his wife take the boy in to raise as their son. Father Khalid's brother is concerned because Behrooz and Father Khalid's daughter Maya soon strike up a special friendship and Muslim law permits marrying your adopted sister.
The Yard is an epic story, beginning when Maya and Behrooz are just children and chronicling their lives as well as their family's lives well beyond their childhood. There are a lot of characters to keep track of! The author's prose is sparse and charming. I was captivated. I love books with Indian characters and culture. The Indo-Muslim culture of Trinidad and Tobago was new to me and I enjoyed reading about it. My only criticism is that some events, including the ending, seemed rushed. Overall, the story was authentic and I definitely recommend it. Scroll down to the bottom to enter for a chance to win your own copy!
About Aliyyah Eniath
Aliyyah Eniath was born in Trinidad and Tobago; her ancestors hailed from Uttar Pradesh, India. She's a director at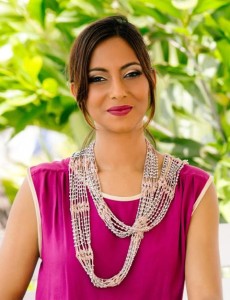 Safari Publications, a magazine publishing house, and founder/editor-in- chief of Belle Weddings (Caribbean) magazine.
Her debut novel The Yard (literary, romance) is published by Speaking Tiger Books in both paperback and ebook formats.
She explores the ideas of breaking free from imposed boundaries (familial or otherwise), understanding and feeling supported in who you are, overcoming self-doubt, and finally being true to yourself. Her writing looks at strict religious ideologies and their potential consequences and begs for a softer approach and innate understanding and compassion towards every human being.
She writes from the perspective of East Indians whose forefathers were brought to Trinidad from India through the British colonial indentureship scheme in 1845.
Find out more about Aliyyah at her website, and connect with her on Facebook and Twitter.
I'm pleased to be able to givaway one copy of The Yard to a lucky reader with a US mailing address. Just fill out the form below. I will take entries until 11:59pm CST on September 27, 2016 Good luck!

Thank you to TLC Book Tours for providing me with a copy of this book. Check out the other stops on the tour:
Tuesday, September 6th: Book by Book
Wednesday, September 7th: Dwell in Possibility
Thursday, September 8th: G. Jacks Writes
Monday, September 12th: Show This Book Some Love
Tuesday, September 13th: Chaos is a Friend of Mine
Thursday, September 15th: #redhead.with.book
Wednesday, September 14th: Real Life Reading
Tuesday, September 20th: The Book Chick
Wednesday, September 21st: Lit and Life
Monday, September 26th: Book Chatter
Wednesday, September 28th: Mom's Small Victories
Friday, September 30th: Dreaming Big
September 13th, 2016 in
Books