Page to Screen: The Girl on the Train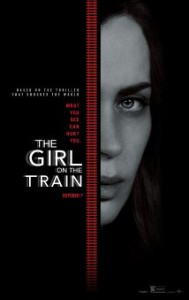 From Rotten Tomatoes: Rachel, devastated by her recent divorce, spends her daily commute fantasizing about the seemingly perfect couple who live in a house that her train passes every day, until one morning she sees something shocking happen there and becomes entangled in the mystery that unfolds. Based on Paula Hawkins' bestselling novel.
I am happy to say that the movie adaptation of The Girl on the Train is a great one. It's been almost two years since I've read the book and I opted not to re-read it before seeing the movie like I usually do. I think this was a good choice because I wasn't nitpicking little differences, although I don't think there was much to nitpick anyway.
The biggest change is that the setting has been moved from London to New York, presumably to make the movie more relatable to us Americans. I was surprised when I heard the filmmakers were making this change because I thought one of the main reasons Emily Blunt was cast as Rachel was because she's British. The only difference that I could tell the change in location made was that instead of buying canned gin and tonics, Rachel poured vodka into a water bottle.
Also, her relationship with her roommate was cut down to two or three scenes and her mother wasn't in the movie at all. I'm sure this was to keep the movie's running time under control. I actually think it was a good thing. It tightened the focus of the story up to just Rachel and the audience trying to figure out what happened to Megan.
When I found out that Emily Blunt was cast as Rachel, I was worried. First of all – she's way too thin. Secondly, she's so beautiful – how could she be made to look as rough as Rachel? Turns out I needn't have worried on that point – Emily Blunt looked awful. (I mean that as a complement!) She wasn't chubby (even though she was pregnant in real life) but it didn't matter. You still understood that she had definitely let herself go.
I believe the twists and turns in the movie that made the book so great will be surprising to movie goers who haven't read the book. My husband didn't read the book and he was very surprised by the ending. I thought this was a great movie for thriller fans, whether you've read the book or not.