Audio Book Review: Wishful Drinking by Carrie Fisher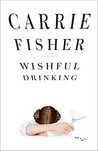 Wishful Drinking by Carrie Fisher
Publisher: Simon & Schuster Audio
Release Date: December 11. 2008
My rating: 4.5of 5 stars
Publisher's Description:
Finally, after four hit novels, Carrie Fisher comes clean (well, sort of) with the crazy truth that is her life in her first-ever memoir.
In Wishful Drinking, adapted from her one-woman stage show, Fisher reveals what it was really like to grow up a product of "Hollywood in-breeding," come of age on the set of a little movie called Star Wars, and become a cultural icon and bestselling action figure at the age of nineteen.
Intimate, hilarious, and sobering, Wishful Drinking is Fisher, looking at her life as she best remembers it (what do you expect after electroshock therapy?). It's an incredible tale: the child of Hollywood royalty — Debbie Reynolds and Eddie Fisher — home wrecked by Elizabeth Taylor, marrying (then divorcing, then dating) Paul Simon, having her likeness merchandized on everything from Princess Leia shampoo to PEZ dispensers, learning the father of her daughter forgot to tell her he was gay, and ultimately waking up one morning and finding a friend dead beside her in bed.
Wishful Drinking, the show, has been a runaway success. Entertainment Weekly declared it "drolly hysterical" and the Los Angeles Times called it a "Beverly Hills yard sale of juicy anecdotes." This is Carrie Fisher at her best — revealing her worst. She tells her true and outrageous story of her bizarre reality with her inimitable wit, unabashed self-deprecation, and buoyant, infectious humor.
Wishful Drinking is Carrie Fisher's memoir with having both bi-polar disorder and a drug addiction as well as growing up as the daughter of two very famous parents – Debbie Reynolds and Eddie Fisher. She starts out boldly by disclosing that she has had electroconvulsive therapy or ECT, as part of her treatment for her mental illness. Because of this, some of her memories are fuzzy or have been wiped out. One of her reasons for writing this memoir is to record the memories she has left in case they go as well.
Carrie has written this book with her trademark sense of humor. What easily could have been a depressing book what with her mental illness, an absent father, two-failed marriages and a drug addiction is actually really funny. I listened to the audio book, which she narrated herself. Her delivery makes her story all the more humorous. In fact, the book is based on her hit one-woman show, also called Wishful Drinking.
I just wish she would have included more details. For example, she talks about her on again/off again relationship with her first husband, singer/song writer Paul Simon, but doesn't say what they fought about, just that they fought. And how did she find out her second husband was gay? I need to know! The book was pretty short at only three hours so there was room for more. Perhaps the details were foggy for her due to the ECT and that's why she didn't elaborate.
Carrie jokes about her death a few times and what she wants people to say about her after she dies. These parts were hard to listen to. Of course she didn't expect to die so young. I'm so glad she wrote this book and narrated it herself so I could spend some more time with her. I recommend this book to her fans, which should be all of you!
February 1st, 2017 in
Books