Week-End Ramblings
This was a pretty low-key week. The absolute highlight was graduating pulmonary rehab. I have very poor lungs for a variety of reasons. I'm hospitalized for pneumonia at least twice a year. The latest theory from my doctors is that my Crohn's disease is the most recent cause of the inflammation. This is after being in the hospital for over two weeks in November. I even spent Thanksgiving there! I came home from that stay with instructions to wear oxygen whenever doing any activity more strenuous than just puttering around my house – so shopping, going on an outing with my kids, etc. I was super uncomfortable every time I left the house with my portable oxygen machine because I felt so conspicuous. I even scared a baby on an elevator and made him cry!
My doctor ordered pulmonary rehab for me, which is basically physical therapy for the lungs. It was eighteen sessions long and we mostly focused on cardio to build up endurance. Pulmonary rehab is usually for people with COPD. My class consisted of me and five to seven crusty old male ex-smokers in their late 70s and early 80s. I fit right in. Halfway through the program, I was able to ditch my oxygen machine during the day. I still have to wear it on the treadmill and when I sleep at night but that's fine. I'm down to only one-liter on the treadmill and I hope to get it down to zero soon.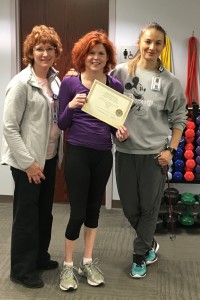 When you graduate, they play Happy Trails over the speaker system and you get a certificate. This is me with the fabulous RN and exercise physiologist that I worked with. There is also a respiratory therapist that monitors you.
I spent this weekend watching Oscar nominated movies. More on that later – I'll be doing at least on Oscar post soon!
What have you been up to? Tell me in the comments or link up a post.