Page to Screen: Hidden Figures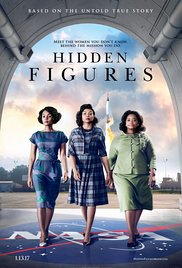 Hidden Figures is the movie based off of the book of the same name. But while the book is non-fiction, I would call the movie historical fiction. The basics of the book are there. It's still the story of the black female mathematicians, or computers, as there were called, who worked for NASA – their trials and tribulations. It portrays their struggles to get an education. It portrays the racism and sexism present as NASA – getting passed over for promotion in favor of white men, getting paid less than white men and being excluded from important meetings that only white men were invited to.
However, some of the instances of overt racism were added for dramatic effect. The bathroom scene and the coffee pot scene never happened. Other events have also been embellished or dramatized, I think mainly to help the film flow more smoothly with a stronger narrative. Most of the men working in the film who worked at NASA were composite characters.
I actually didn't mind all of the changes because I knew the true story going in. As I said in my review of the book, I found the book too slow and technical for my taste. I was hoping I would like the movie better than the book and I definitely did. And really, the important thing about the movie is that it is bringing awareness to the very existence of the black mathematicians who worked at NASA and most people will not pick up a semi-dry non-fiction book to learn more about them. I think the movie is a good thing. And it's a good movie in and of itself – it was nominated for three Academy Awards. The acting is superb, especially Octavia Spencer, Taraji P. Henson and Janelle Monáe who play the three main characters. I know Octavia Spencer was the one nominated for the Oscar but Janelle Monáe and her  character were my favorite. My BFF, Jim Parsons, plays one of the bad guys at NASA. It was hard to watch Sheldon being so mean!
Go see this movie if you haven't already. It's important, dramatic and fun. Just keep in mind, it's based on historical events, not a re-telling of them.