Page to Screen: Room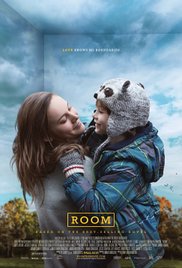 Both highly suspenseful and deeply emotional, ROOM is a unique and touching exploration of the boundless love between a mother and her child. After 5-year-old Jack (Jacob Tremblay) and his Ma (Brie Larson) escape from the enclosed surroundings that Jack has known his entire life, the boy makes a thrilling discovery: the outside world. As he experiences all the joy, excitement, and fear that this new adventure brings, he holds tight to the one thing that matters most of all–his special bond with his loving and devoted Ma. – Rotten Tomatoes
I finally got around to watching the movie Room this past weekend. Why did I wait so long? I think it's because I knew it would be a hard move to watch and I needed to be in the right mood. It's currently free to stream on Amazon Prime AND the kids actually went to bed early enough that Travis and I had time to watch a movie before our bedtime.
It was fantastic. I read the book a few years ago in one day. You can find my review here. I never finish books in just one day so that tells you how much I loved it. I don't remember the fine details of the book because it was so long ago, but from what I do remember, the movie was adaptation was true to the book.
I liked being able to see the room Ma and Jack lived in. It was hard for me to picture it when I read the book even though, if I remember correctly, a diagram was included. I also liked seeing how Wardrobe was set up for Jack to sleep in as I had difficulty with this as well.  (All of the objects in Room have proper names as they are Jack's only friends.)
The acting in this movie was outstanding. Brie Larson won the Oscar for Best Actress for her portrayal of Ma, who was kidnapped as a girl and held hostage in Room for seven years. Ma's adjustment to the outside world after being rescued is unexpected, yet completely understandable. Brie had to express a wide range of emotions in this role. The child actor Jacob Tremblay, who played Jack, was pretty amazing at how well he could show true emotion. It's hard to believe he was only seven when this movie was filmed.
My husband, who hasn't read the book, enjoyed the movie as well although he did say he thought it was depressing. I would agree – the movie is excellent but you definitely need to be in the right mood to fully appreciate it. Like maybe when you're in the mood for a good cry.
In addition to Brie Larson winning the Oscar for Best Actress, Room was nominated for the Best Director, Best Adapted Screenplay and Best Picture Oscars.