Book Review: Tuck Everlasting by Natalie Babbitt
Tuck Everlasting 40th Anniversary Edition by Natalie Babbitt
My rating: 5 of 5 stars
Publisher: Square Fish
First Published in 1975
Publisher's Description:
Doomed to―or blessed with―eternal life after drinking from a magic spring, the Tuck family wanders about trying to live as inconspicuously and comfortably as they can. When ten-year-old Winnie Foster stumbles on their secret, the Tucks take her home and explain why living forever at one age is less a blessing that it might seem. Complications arise when Winnie is followed by a stranger who wants to market the spring water for a fortune.
This book asks a question, "Would you want to live forever?" but does not have an answer. It makes for a great book to read and discuss with your kids. It will challenge them to think critically. And it's short so it's easy for busy grown-ups to find time to read.
I liked that this book does not dumb down the language just because it's a kid's book. The prose is beautifully descriptive and there were some great vocabulary words. I read it with my son and we looked up the words he didn't know as we went. It averaged one or two per chapter – not too burdensome. As Ms. Babbitt says in the interview in the back of the book,
"Some time during the last forty years, people have decided that children can't understand any words that have more than four or five letters. That's just plain crazy…There's no other way to enlarge our vocabularies. The more words you have at your disposal, the easier it is to say what you want to say, specifically."
This is a great book for middle graders when you're looking for something a little more sophisticated than the Wimpy Kid books and that ilk for a change of pace.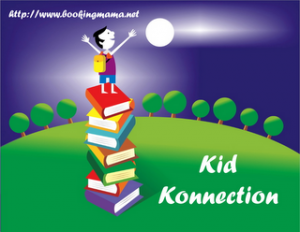 For more reviews of books for children and teens, check out Booking Mama's feature, Kid Konnection, posted on Saturdays. If you'd like to participate in Kid Konnection and share a post about anything related to children's books (picture, middle grade, or young adult) from the past week, you can go to her site to leave a comment and your link .
April 26th, 2017 in
Books