Book Review and Author Event: Theft by Finding by David Sedaris
Theft by Finding: Diaries 1977-2002 by David Sedaris
Publisher: Little, Brown and Company
Release Date: May 30, 2017
My rating: 5 of 5 stars
Publisher's Description:
For forty years, David Sedaris has kept a diary in which he records everything that captures his attention-overheard comments, salacious gossip, soap opera plot twists, secrets confided by total strangers. These observations are the source code for his finest work, and through them he has honed his cunning, surprising sentences.
Now, Sedaris shares his private writings with the world. Theft by Finding, the first of two volumes, is the story of how a drug-abusing dropout with a weakness for the International House of Pancakes and a chronic inability to hold down a real job became one of the funniest people on the planet.
Written with a sharp eye and ear for the bizarre, the beautiful, and the uncomfortable, and with a generosity of spirit that even a misanthropic sense of humor can't fully disguise, Theft By Finding proves that Sedaris is one of our great modern observers. It's a potent reminder that when you're as perceptive and curious as Sedaris, there's no such thing as a boring day.
First, I want to say that Theft by Finding should not be the first work you read by David Sedaris. You need to know at least a little about him and his family to fully appreciate his diaries. Reading the diary of someone you know is usually going to be more interesting than reading the diary of someone you don't know.
I felt like I was watching him grow as both a writer and a person in reading this diaries. His entries from the 1970s are brief, usually a paragraph or two and about doing drugs or being broke and trying to find work After he becomes a student at the Chicago Art Institute, the entries become longer and more insightful. By the 1990s, his entries are more like actual essays and the most humorous entries of the book.
It was fun reading the diary entries and recognizing the events that would eventually become stories in his books or one of his essays. For instance, he writes about using his Stadium Pal, which became a hilarious story that was published in Esquire and that he read on David Letterman.
Because the entries are short, ranging from just a paragraph to around three pages, this is an easy book to pick up when you just have a short time to read. He writes in the introduction that this book, "Seems like the sort of thing you might dip in and out of, like someone else's yearbook or a collection of jokes." I found it to be a great book to take to the pool because I'm interrupted what seems like every two seconds by my kids wanting me to watch some trick they can do in the water. ("Watch me Mommy, watch me. Mommy, WATCH ME!) However, it was interesting enough to me that when I read it at night before bed, I had a hard time putting it down.
I can't imagine that a fan of David's wouldn't love reading this book to gain more insight into his mind and learn more about his life beyond his humorous essays and books. I know I did.
********************************
My local independent bookstore brought David Sedaris in for an author event and I was lucky enough to be able to attend. It was an interesting set-up. He stood outside the bookstore's front entrance using a PA system with a stack of his books on a table as a podium. The audience brought their own camping chairs and set them up in the parking lot. It was a balmy 90 degrees. I got there two hours early because I was worried about getting a good spot in the parking lot so I was able to snag a spot in the shade. He signs books both before and after his events and since I was there so early, I was near the front of the before line – yay!
He read selected entries from Theft by Finding and then he read some of his diary entries from Volume Two which will cover 2003-2017. As usual, listening to him read his writing made it one-hundred times funnier than it already is. After the reading, he took questions from the audience. I can't remember what the question was but one of them led to him joking about how his book is number four on the New York Times best-seller list for hard-cover non-fiction and we needed to help him get it to number one. Neil DeGrasse Tyson's, Kevin Hart's and Al Franken's books were all ahead of him. He said he could see Neil DeGrasse Tyson being ahead of him but that Hart's book and Franken's book weren't real books because real books don't have pictures of the authors on the front cover. Then he said that even though Hillbilly Elegy was number five on the list, he still had to say that there was no way that J.D. Vance was a real hillbilly because he went to Yale. I thought that was particularly funny because I also feel like Vance isn't that much of a hillbilly. (You can read my review of Hillbilly Elegy here.) After his rant, he apologized and says he usually doesn't say anything bad about people. To which the audience laughed because he writes a lot of negative things about other people – in a humorous way of course.
If you ever get the chance to see David Sedaris live – take it! I think his live performances would be funny even to people who haven't read any of his books. I'm seeing him again later in the year when he comes to the Kauffman Center and I can't wait.
David always takes time to chat with every person in line  – which is why he often signs books well into the wee hours. The owner of the bookstore told me one of his signings lasted past two in the morning. I  bought a copy of his book for him to sign but also brought my advance copy with me. He asked me about where I got it and I told him about ChaosIsAFriendofMine. This is how he signed my book: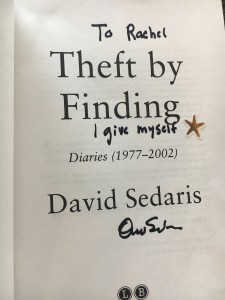 He gives himself one star. So humble!
Save
Save
Save
Save