Zombie Week Book Review: Flip This Zombie by Jesse Petersen
Flip This Zombie by Jesse Petersen
Publisher: Orbit
Release Date: January 1, 2011
My rating: 3.5 of 5 stars
Publisher's Description:
The Zombie Apocalypse has been good to Sarah and David. Their marriage is better than ever. They communicate well, share responsibilities, and now, they're starting a business. ZombieBusters-for all your zombie extermination needs.
There are lots of zombies and that means lots of customers…Except one of them doesn't want the zombies dead, he wants them alive and ready for experimentation. Mad scientists make for difficult clients and this time, Sarah and David might have bitten off more than they can chew.
***Warning: This review may contain spoilers for the first book in this series, Married with Zombies.***
Surviving the zombie apocalypse by fighting zombies together has made David and Sarah's marriage stronger than ever. They are so good at kicking zombie butt that they have started a business called ZombieBusters – a zombie extermination service. Things are going well until they land a customer that wants them to capture zombies and bring them to him still alive. Or still undead? Anyway, he doesn't want them killed. What in the world does he want with live zombies? That's what Dave and Sarah want to find out.
Flip This Zombie had a lot of surprise twists and was just as campy and fun as Married with Zombies. I'm going to continue reading this series.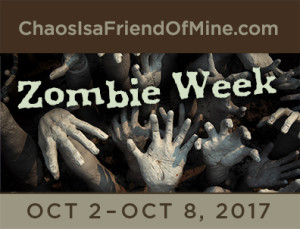 Save
Save