Zombie Week Book Review: Eat Slay Love by Jesse Petersen
Eat Slay Love by Jesse Petersen
Publisher: Orbit
Release Date: July 1, 2011
My rating: 3.5 of 5 stars
Publisher's Description:
Sarah and David have survived the zombie apocalypse. They stood side by side and fought the undead, mad scientists, and even bionic monsters until the unthinkable happened. A zombie bite. But not even that could stop them. Now, with a possible cure in hand, they're headed east, looking for a safe zone behind the rumored "Wall." They're feeling pretty optimistic.
That is until Dave stops sleeping and starts lifting huge objects.
Eat. Slay. Love.
Because they haven't got a prayer.
***Warning: This review may contain spoilers for the previous two books of this series.***
Dave and Sarah have the cure and are on the road to the rumored Midwest Wall, hoping to deliver the cure to government scientists. Along the way, they run into Nicole Nessing, a reporter from a TMZ type TV show. Of course, it hasn't been broadcasting during the apocalypse but Nicole is still filming. She thinks that when this is all over (will it ever be over?), she'll get rich off of all the footage she's shot. This makes her a pretty annoying character.
As they journey towards the Wall, they encounter numerous obstacles that I won't go into detail about for fear of spoiling it for you. Along the way, Sarah notices that Dave is exhibiting some strange behavior that she doesn't quite know what to make of. Dave himself is slow to notice.
In Eat Slay Love, Dave and Sarah come closer to finding out how and why the zombie apocalypse started but they don't find everything out. Hopefully, that will come in the next book. Apparently, the fourth installment is the last. I read on the author's blog that she didn't continue on with the series after the fourth because sales of the third weren't that great. And now I'm having trouble finding a copy of the fourth book, The Zombie Whisperer. It's not on Amazon anymore. I tweeted the author but I haven't heard back yet. I hope I can find a copy and that it doesn't end with a major cliff hanger that's never going to get resolved!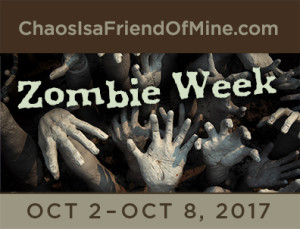 Save
October 5th, 2017 in
Books