Saturday Salon: The Back-to-School Edition
Thursday my boys went back to school, which meant that Wednesday was the nanny's last day. (I've had a nanny this summer because of my illness.) I guess West decided it had just been too uneventful of a summer for the poor nanny and cut his finger on my weight machine Wednesday morning. Doing what, I don't know. His explanation was sketchy. The nanny remembered me telling her that because of West's dangerously high pain tolerance, if he cries for more than a minute after injuring himself, it's serious. Thus, I was awakened by her and West storming in my room with West wearing a shirt spotted with blood and her holding a paper towel on his finger. The wound was gaping so we headed off to the ER, with me forgoing coffee and not realizing til we got there that I didn't have any change to buy it. I deserve a medal!
Luckily, the doctor said that he would use glue instead of stitches. However, West was still freaked out, even after the doctor glued my wrist to show him that it wouldn't hurt. I played the ice cream card and that got him calmed down pretty much immediately. After we were finished, West asked if we could just get ice cream for him and not for Cash and Neve. I said no and asked him how he would feel if Cash went to the ER and got ice cream and he didn't. West responded, "But Cash never has to go to the ER!" Exactly, kid. Cash deserves ice cream for not seriously injuring himself on a regular basis.
The finger did not prohibit West from starting school Thursday morning as planned: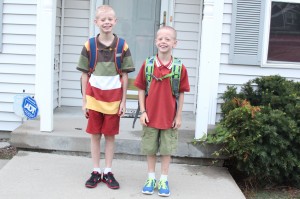 Cash-3rd grade  West-2nd grade