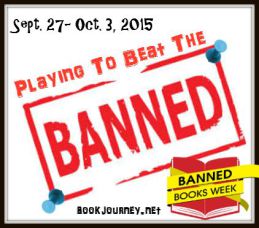 This week I'm joining Shelia at Book Journey in celebrating Banned Books Week. Check out her blog every day this week for links to other blogs with posts about banned books.
Some Girls Are by Courtney Summers
Publisher: St. Martin's Griffin
Release Date: January 5, 2010
My rating: 4 of 5 stars
Publisher's Description:
Climbing to the top of the social ladder is hard–falling from it is even harder. Regina Afton used to be a member of the Fearsome Fivesome, an all-girl clique both feared and revered by the students at Hallowell High… until vicious rumors about her and her best friend's boyfriend start going around. Now Regina's been "frozen out" and her ex-best friends are out for revenge. If Regina was guilty, it would be one thing, but the rumors are far from the terrifying truth and the bullying is getting more intense by the day. She takes solace in the company of Michael Hayden, a misfit with a tragic past who she herself used to bully. Friendship doesn't come easily for these onetime enemies, and as Regina works hard to make amends for her past, she realizes Michael could be more than just a friend… if threats from the Fearsome Foursome don't break them both first.
Tensions grow and the abuse worsens as the final days of senior year march toward an explosive conclusion in this dark new tale from the author of Cracked Up To Be.
Regina Afton is one of the Fearsome Fivesome, the most popular clique of girls at her high school. They rule by intimidation and seem to have absolute power in the school. After Regina is nearly raped by her best friend's boyfriend, she makes the mistake of confiding in one of her frenemies, who is also a Fearsome Fivesome member, Kara. Instead of being supportive, Kara starts a vicious rumor about Regina and just like that, she's frozen out of the group.
Regina is flawed, to say the least. She makes bad choices over and over, to the point that you want to shake her. But she's still in high school so I think that's totally realistic, even if completely frustrating. There was so much tension in this book that my stomach was in knots pretty much the entire time I was reading it. Regina's former friends are vicious in their full scale attack on her to get revenge for what Kara says Regina did.
The heart of this book is what happens when the bully becomes the bullied. I appreciated the realism this book brought forth. It wasn't the formulaic story you would expect where Regina learns her lesson straight away and embarks on a path of redemption. Do normal high schoolers do that? No. Most are self-absorbed teenagers, they don't always get things right away, if at all. This is a good book for high schoolers to read, everyone will relate to at least one of the characters and realize that they are not alone. It would also make for a lively classroom discussion. There is mention of sex but no graphic sex scenes. There is also quite a bit of swearing but like I've said before, it you're teenager hasn't heard those words before, you might want to let them out from under that rock you've got them trapped under. I think this is a great book about that high school kids will appreciate.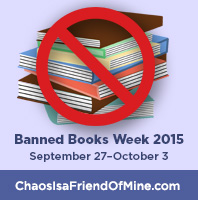 Why is Some Girls Are featured as part of my Banned Books week celebration? Well, I'll tell you. It was on the summer reading list for kids at Charleston, South Carolina's West Ashley High School this summer along with Rikers High by Paul Volponi. Students could choose to read one or the other. Melanie MacDonald, a parent of a student in the district, read to page 74 of Some Girls Are and decided that it was "smut". She didn't even read the whole thing before passing judgement! Instead of just having her daughter read the other choice on the list, she launched a full scale campaign to have the book removed from the reading list. And the school caved. Based on ONE parent's complaint. A parent who took it upon herself to decide what was appropriate for all of the children in the school to read, not just her own. You can read Courtney Summers' excellent response to the situation here. Have you read any banned books lately?