Wonderstruck by Brian Selznick
Publisher: Scholastic Press
Release Date: October 2011
Genre: Middle Grade Fiction
My rating: 5 of 5 stars
Publisher's Description:
From Brian Selznick, the creator of the Caldecott Medal winner THE INVENTION OF HUGO CABRET, comes another breathtaking tour de force.
Playing with the form he created in his trailblazing debut novel, The Invention of Hugo Cabret, Brian Selznick once again sails into uncharted territory and takes readers on an awe-inspiring journey.
Ben and Rose secretly wish their lives were different. Ben longs for the father he has never known. Rose dreams of a mysterious actress whose life she chronicles in a scrapbook. When Ben discovers a puzzling clue in his mother's room and Rose reads an enticing headline in the newspaper, both children set out alone on desperate quests to find what they are missing.

Set fifty years apart, these two independent stories–Ben's told in words, Rose's in pictures–weave back and forth with mesmerizing symmetry. How they unfold and ultimately intertwine will surprise you, challenge you, and leave you breathless with wonder. Rich, complex, affecting, and beautiful–with over 460 pages of original artwork–Wonderstruck is a stunning achievement from a uniquely gifted artist and visionary.
I found Wonderstruck to be utterly fascinating and unique. Ben's story is told in words while Rose's story is told in pictures. I don't want to spoil anything, but telling Rose's story in pictures helps the reader understand Rose's life at a level that words cannot convey.
I think it's pretty clear that Rose and Ben's story will eventually come together somehow but I was completely surprised by how this happened.
Do not let the thickness of the this book turn you off. More than half of it is marvelous full -page illustrations. It only took me a couple of hours to read. The detail in the illustrations is amazing and the emotion each one conveys to the reader is breathtaking.
I read this story because it was a pick for the intergenerational book club my oldest son and I are a part of. This book was thoroughly enjoyed by the adults and kids alike. I highly recommend Wonderstruck.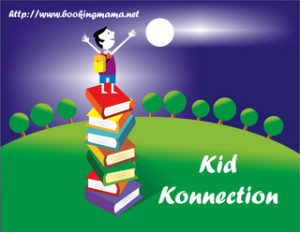 For more reviews of books for children and teens, check out Booking Mama's feature, Kid Konnection, posted on Saturdays. If you'd like to participate in Kid Konnection and share a post about anything related to children's books (picture, middle grade, or young adult) from the past week, you can go to her site to leave a comment and your link .