The Island of Dr. Libris by Chris Grabenstein
Publisher: Random House Books for Young Readers
Release Date: March 24, 2015
My rating: 5 of 5 stars
Publisher's Description:
What if your favorite characters came to life? Billy's spending the summer in a lakeside cabin that belongs to the mysterious Dr. Libris. But something strange is going on. Besides the security cameras everywhere, there's Dr. Libris's private bookcase. Whenever Billy opens the books inside, he can hear sounds coming from the island in the middle of the lake. The clash of swords. The twang of arrows. Sometimes he can even feel the ground shaking. It's almost as if the stories he's reading are coming to life! But that's impossible . . . isn't it?
Billy's mom rents Dr. Libris's cabin for the summer. There is no TV, no computer and his iPhone is broken. What will he do all summer? Dr. Libris has an extensive library and with nothing else to do, Billy reads the books in the library.
Strange things start happening in the library as he reads and he is drawn to the island in the middle of the lake that is near the cabin. Once he gets to the island to explore REALLY strange things happen. The characters in the books he's been reading are alive on the island! He and his new friend Walter, who's family lives next door to the cabin, have many suspense filled adventures on the island with the characters. But how did the characters appear on the island? And why are they there? This is the core mystery of the book.
One thing I have to point out that I loved about this book is the fact that Walter is African American. It's only mentioned when his little sister is described as having "chocolate colored skin, bright brown eyes and hair knotted into three braids." It's important to characters of color in books that are not about race.
I think this book will have a ripple effect on young readers. After reading about the characters in Robin Hood, Tom Sawyer, etc. they might be interested in reading the books that those characters are in. The author provides a reading list of books that inspired him while writing this book that would come in handy for young readers.
The Island of Dr. Libris is a fun little middle-grade mystery that both boys and girls will enjoy.
(I received this book courtesy of the publisher.)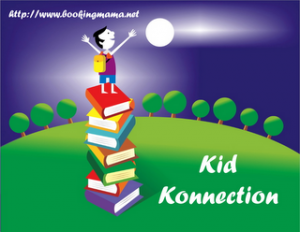 For more reviews of books for children and teens, check out Booking Mama's feature, Kid Konnection, posted on Saturdays. If you'd like to participate in Kid Konnection and share a post about anything related to children's books (picture, middle grade, or young adult) from the past week, you can go to her site to leave a comment and your link .