March 2014 Stitch Fix
My last post about Stitch Fix was so popular, I thought I would start posting about my Fixes as they come – a little break from book reviews.
I received my last box from Stitch Fix while I was in the hospital with pneumonia. I'm sure that Stitch Fix would have extended the three-day window to send my box back, as they did when the weather was really bad this winter and my box came late. However, I couldn't wait to see what I was in my box so I had my husband bring my Fix to me. Because I was in the hospital, I didn't have a bra, hair products or makeup handy so these pictures look a little rough.
Rizzo Skinny Ponte Pants
Kierly Dot Print Short Sleeve Blouse
The shirt was too shapeless for me. If it had just a little bit of a waist to it, I would have liked it a lot more. I was thrilled to get these pants – I don't know if you can tell from the photo but they are black jeggings. When you schedule a Fix, they always ask if you have any requests for your Fix. I requested black jeggings and I got them! They fit perfectly and are so comfy. Here's the back view: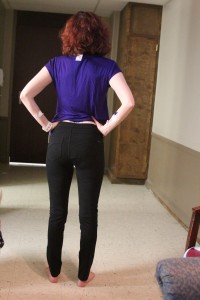 Back view of Rizzo Skinny Ponte Pants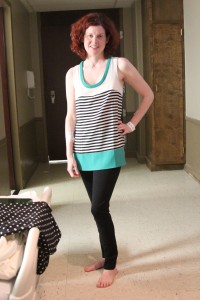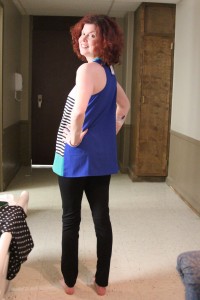 Front and back of Alessandra Striped & Colorblocked Blouse
You can't tell from the photo but this top was bell-shaped which made it look like a maternity top on me. Even though I'm thin, I have a tummy pooch so my tops need to fit in such a way that strangers don't ask me when I'm due. You laugh, but it's happened more than once!
Selfridge Cowl Neck Long Sleeve Top
The fit of this top is perfect. And I love that it has a built-in cami so I don't have to worry about what to wear under it.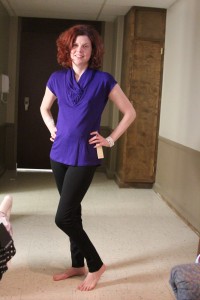 Wrenn V-Neck Jersey Top
Another great fit. I love how this top is narrow at the waist and then has a slight flare at the hips
This was a great Fix. I kept the jeans, the cowl neck top and the v-neck top. The fact that I kept three out of five items shows that my stylist is getting to know me better with each Fix. And my fabulous husband worked some magic with his budgeting spreadsheet and told me that I can up my shipments from once a quarter to once every two months! Coincidentally, Stitch Fix now has an automatic shipping option for once every two months as well as the once a month option that they had before. And you can still just schedule your Fixes randomly as well.
Another neat thing about Stitch Fix is that when your friends sign up using your referral link, you get a nice referral fee. If you decide to sign up after reading this post, please use my referral link. Thanks so much!
May 1st, 2014 in Uncategorized