Throwback Thursdays: I Know Why the Caged Bird Sings by Maya Angelou
I Know Why the Caged Bird Sings by Maya Angelou
First Published in 1969
My rating: 5 of 5 stars
I owned I Know Why the Caged Bird Sings as a child and I assumed that I had read it. However, when I started "re-reading" it after Maya Angelou's death, I realized that I hadn't read it before. I would have remembered reading this powerful book. I feel a little unworthy to review this book because it's obviously fantastic but you all want to know what I personally thought of it, right? Great!
***This review assumes that you know the basic details of Maya Angelou's life and may have spoilers if you don't.***
I Know Why the Caged Bird Sings is Dr. Angelou's account of her life from three or four years old through seventeen years old. It's different from most autobiographies in that it's not strictly chronologically. It's more of a series of vignettes from her life that have common themes.
It starts off when her parents shipped her and brother off to Stamps, Arkansas to live with their grandmother, who they called Momma. And they were literally shipped – put on the train by themselves with a tag pinned to them with where they were going written on it. Living in Stamps, Maya experiences blatant racism from most all of the white people she encounters. This book presents outstanding, horrible examples of white privilege. If you know anyone who doesn't understand the concept, recommend this book to them.
One particular incident that haunted me is when Maya is eight years old, she and her brother are sent to live with her mother, who her brother calls Mother Dear, for a time. While there, Maya is sexually assaulted and raped by her mother's boyfriend. Her description of the emotions she experienced during these events is so brutally honest. I was impressed with the courage that must have taken. The rape and the subsequent murder of the perpetrator are what let to Maya's muteness for the next five years.
Dr. Angelou is, of course, a fabulous writer. She crafts wonderful metaphors and descriptions. She also has wit. The story about her thinking she might be a lesbian (which she thinks is a hermaphrodite) is particularly humorous.
You've probably read this book already. I think it's on every "books to read before you die" list that there is. If you haven't read it, do so as soon as you can.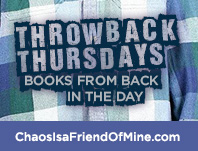 This is the inaugural Throwback Thursdays post! Every Thursday I host Throwback Thursdays. If you you'd like to share a post from the past week about a book from "back in the day", feel free to grab the button for your post and and link up below. Be sure and link directly to your post, not your blog's home page. Thanks!