Throw Back Thursdays: Monster by Walter Dean Myers
Monster by Walter Dean Myers
First publisher in 1999
My rating: 5 of 5 stars
Publisher's Description:
Steve Harmon's black. He's in jail, maybe forever. He's on trial for murder. And he's sixteen years old.
Fade In: Interior: Early Morning In Cell Block D, Manhattan Detention Center.
Steve (Voice-Over)
Sometimes I feel like I have walked into the middle of a movie. Maybe I can make my own movie. The film will be the story of my life. No, not my life, but of this experience. I'll call it what the lady prosecutor called me … Monster.
Steve's story is told in the screenplay he writes about his crime, trial and time in prison and diary entries he writes while in prison. I was worried that the screenplay parts would be difficult to read since I've never read a whole screenplay before, but they weren't. Steve is an incredibly unreliable narrator. Myers purposely leaves it unclear whether he is innocent or guilty. I won't spoil it by telling you what the jury's verdict is.
I liked that this book brought up so many issues that are ripe for discussion. Is it ethical to offer criminals deals or plea bargains in exchange for testifying against other criminals? Are black people treated unfairly in the criminal justice system? Did Steve commit the crime or not? For this reason, this book would make an excellent book club selection for a teenage or adult book club.
Walter Dean Myers, who died on July 1, 2014, was a prolific writer, having published over 100 books for children and teenagers. His books have won many, many awards. Monster won a Coretta Scott King Honor Award and was a National Book Award Finalist. I'll probably never read all of his backlist but after reading this book, I definitely want to give it a shot.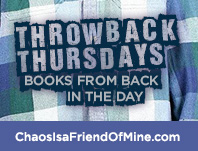 Every Thursday I host Throwback Thursdays. If you you'd like to share a post from the past week about a book from "back in the day", feel free to grab the button for your post and and link up below. Be sure and link directly to your post, not your blog's home page. Thanks!