Stitch Fix Saturday – July 2014 Fix
I'm getting my Fixes from Stitch Fix every two months now and I am still loving this service. For more info about how it works, see my initial Stitch Fix post.
Here's what I got in my July Fix: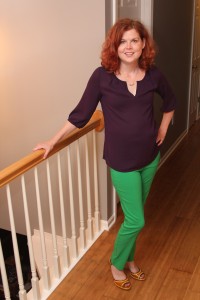 Emer High Waisted Cropped Trouser
In this photo, I'm trying the the pants on with a blouse that I got in a previous Fix and my own shoes. I love these pants! They are incredibly comfy and fit me like a glove. They are high waisted but not in a mom-jeans way. The waist on these pants is good for holding in a tummy pooch – one of my problem areas. Another plus is that I love green. Here's the booty shot: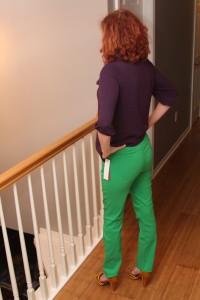 You can see in this shot that the waist is high according to today's standard but much shorter than the high waist of the 80s.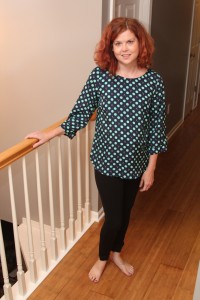 Bixby Dot Print 3/4 Tab Sleeve Blouse
I like the color and pattern of this shirt but it pretty shapeless. I like tops that taper at the waist. Otherwise, with my aforementioned tummy pooch, it looks like a maternity top. Also, I'm not a big fan of tap sleeves.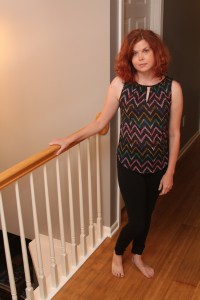 Ventura Abstract Chevron Keyhole Tank
I really like this top – I actually got the same top with a pink chevron pattern in a previous Fix. But sadly, that top shrunk in the wash. Stitch Fix customer service was fabulous about that, by the way. I emailed them about it and they sent me a prepaid shipping label to send it back and credited my account. No questions asked.
Adan Geo Printed Shift Dress
I really liked the mod look of this dress but it was WAY too short for an old woman like me. My butt is almost hanging out!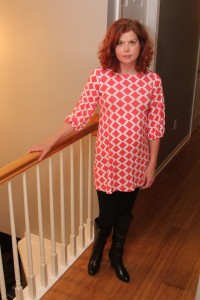 I decided to try the dress on with black jeggings and boots that I already had. I thought that looked really good and gave me adequate butt coverage. I think black tights would work just as well. That's another great thing about Stitch Fix – since you are trying everything on in the comfort of your own home, you can pull things out of your closet to see how they would coordinate with the items in your Fix.
I would also like to try this dress with a wide belt and a statement necklace but I don't have either. I am very bad at accessorizing. I have diamond studs, a necklace with my kids' birthstones and my wedding ring that I wear regularly. And that's it! So if you want to link to any belts or necklaces that you think would go with this dress in the comments, I'd really appreciate it. I need all the help I can get!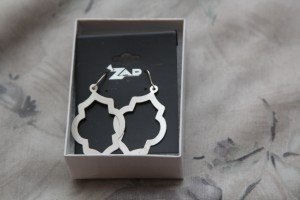 Zoe Open Shape Metal Earrings
I like these earrings but they didn't blow me away and like I said, I'm just not that into accessories. Probably the only way I'd keep jewelry in one of my Fixes is if I was buying the other four items and needed to buy them to get the 25% discount that you get on your entire order if you buy all five items. That basically works out to one item free! You can put in your style profile that you don't want any accessories but I checked that I'd like to have necklaces and earrings because I was interested to see what I would get. I may change to no accessories at some point and get five items of clothing instead.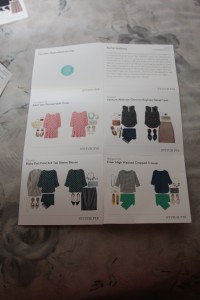 T
This is the style card that's included with each Fix. I love it because it helps me think way more creatively about the pieces than I normally would. The card for the dress is why I want to get a statement necklace to go with it. Look at that cute turquoise one that's suggested! (Click on the picture to make it bigger so you can see it.)
You can probably guess that I kept the dress and the pants from this Fix. I didn't keep the keyhole tank because I was afraid it would shrink like the other one did. I love both my picks! If you want to sign up for Stitch Fix, I would love it if you used my referral link. (Full disclosure – Stitch Fix gives people a $25 credit for every person they refer.) Then I can feed my habit that much more!