Thowback Thursday Book Review: Henry and Beezus by Beverly Cleary
Henry and Beezus by Beverly Cleary
Original Publication Date: 1952
My rating: 4 of 5 stars
I love Beverly Cleary. My mom read the books, then read gave her books to me to read and now I'm giving them to my son to read. I read this book out loud with my son. Even though he's perfectly capable of reading by himself, he loves the snuggle time of reading with mama.
This was a fun little book. Each chapter finds Henry trying a different tactic to earn enough money to buy himself a bicycle. Beezus helps him but definitely has a supporting role in the book – it isn't really Henry and Beezus as best buddies like the title implies. Beezus always has her annoying little sister tagging along – a little preview of how ornery she'll be in her own books.
My son and I loved comparing life in the 50s when this book was first published to life today. For instance, Henry sells gum to his friends at two pieces for a penny. A bag of chips cost a dime. My son thought this astounding but he knew this was a REALLY long time ago because his mom wasn't even born yet.
I loved the wholesomeness of this book. That the kids in it were basically nice and said things like "jeepers". No one was sassy to their parents like in so many middle-grade books today. This is a great book to read and discuss with your middle grade reader.
Other books I've reviewed by Beverly Cleary:
Beezus and Ramona
Ramona the Pest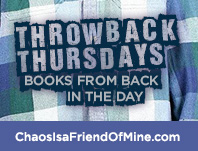 The first Thursday of every month I host Throwback Thursdays. If you you'd like to share a post from the past week about a book from "back in the day", feel free to grab the button for your post and and link up below. Be sure and link directly to your post, not your blog's home page. Thanks!
For more reviews of books for children and teens, check out Booking Mama's feature, Kid Konnection, posted on Saturdays. If you'd like to participate in Kid Konnection and share a post about anything related to children's books (picture, middle grade, or young adult) from the past week, you can go to her site to leave a comment and your link .