Stitch Fix Saturday
It's
Stitch Fix
time again! For those of you who don't know it's an online personal shopping service. When you sign up, you fill out a detailed questionnaire with your sizes and style preferences. It even asks you which areas of your body you'd like to accent and which you don't. Then you schedule when you'd like your
Stitch Fix
box to arrive. You can either have it sent to you automatically every month or two months or just schedule them come whenever you'd like. I'm having mine sent automatically every two months. I love it because I love clothes but I'm not a good shopper and with three kids, I don't make the time to shop very often. I love that these items come right to my door. Most of the time, the items are things that I would have walked past in the store but end up looking great on me. Like I said, I'm not a good shopper!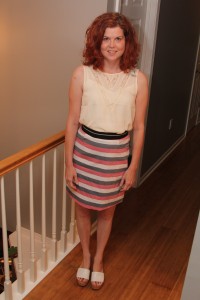 I got both this skirt and top. (The shoes are mine – Stitch Fix doesn't have shoes – yet.) I love how pencil skits fit on me and this skirt is no exception. It has an elastic waist which is nice – very forgiving. It's also pretty thickly lined so it could be worn year-round by adding some tights in the winter. I don't know if I'd actually wear this top with it – it's cream and the stripe in the skirt is white. I like the top just for what it is though. It's sheer so I'm wearing a white cami underneath. What do you think about the shirt/skirt combo – can they be worn together?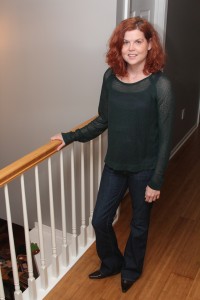 Up next is this green sweater. Of course being a red-head I LOVE to wear green. (Jeans and shoes are mine.) It's a fairly open weave. My stylist suggested wearing a contrasting tank underneath. I'm wearing a purple tank from my closet. That's another awesome thing about Stitch Fix – since you are trying on the clothes at home you can coordinate with items from your own closet to see how the piece would fit into your wardrobe. I liked this sweater because it's a basic piece that I can wear casually or dressy depending on what I wear on the bottom.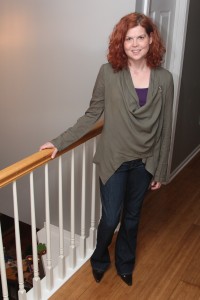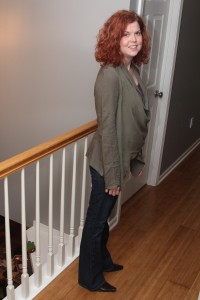 I really wanted to like this jacket. It's olive green which is one of my favorite colors and it has an asymmetrical zipper which is unusual and cool. But it just didn't drape right. See how puffy it is when I stand to the side. Kinda makes me look pregnant and I do not want that!
This necklace was the last item in my box. I specifically asked my stylist – yes you can make requests! – for a mint statement necklace to go with this dress, which I received in my last fix. This is what she sent. I really liked how it went with the dress but I didn't think it was quite bold enough and it was pretty pricey for what I usually spend on jewelry.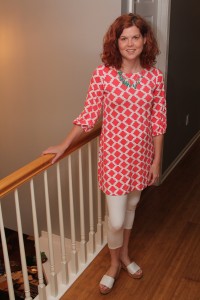 By now you can probably guess what I kept – the skirt, the cream top and the green sweater. The necklace and jacket I sent back in the convenient pre-paid envelope that came in my box. Easy-peasy!
If you'd like to sign up to start getting your own Stitch Fix boxes, please click here. I do get a referral credit. And when you sign up, you can start getting credits too to help with what will quickly become an obsession! If you have any questions, just leave a comment.