Stitch Fix #9 – The One In Which I Kept It All!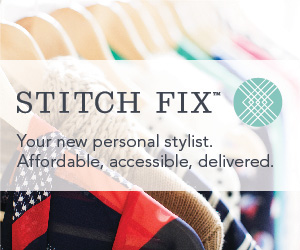 Spoiler Alert: I kept every item from this Fix – that's the first 5 out of 5 for me! My stylist Kalesa rocks! I've had her for three Fixes now I think and she just gets better and better with her choices for me.
Let's back up. Have you heard of Stitch Fix? It's a personal styling service. For a $20 styling fee, your stylist will send you a box of 5 items chosen just for you based on the style profile you fill out when you sign up. If you keep at least one item, the $20 styling fee is waived. If you keep all five items, you get a 25% discount on the whole Fix. You can choose to receive your Fixes at regular intervals (I get a box every 2 months) or just schedule a Fix whenever you want one.
First up is the Skies are Blue Nat Embellished Neckline Blouse: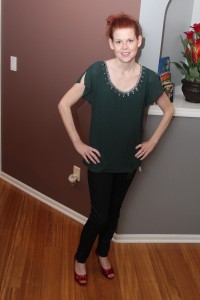 Being a red-head, I love to wear green. And Kalesa mentioned in her note that the color would look great with my hair. That means she's been looking at my Pinterest fashion board where I have pictures of myself wearing items from previous Fixes. (You can link your Pinterest board to your Stitch Fix profile and pin pictures of clothes that you like to give your stylist inspiration when picking your items.) I also love to wear sparkly clothes. I'm like a magpie in that way!  I love the jeweled neckine on the blouse and the deep green color. Perfection! I'm also wearing the jeans that came in this Fix. More about them later.
Next is the Fate Milani Colorblock Sweater: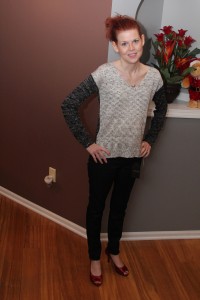 When scheduling a Fix, you can  give your stylist ideas of what you'd like to receive in the next Fix. I asked Kalesa for warm clothes since it was still FREEZING here in Missouri. She delivered with this sweater. It's so soft and comfy that I don't need to wear anything underneath if I don't want to. I really like the color blocked look. Another winner!
Now for the Pixley Leandro Chevron Stripe Knit Shirt: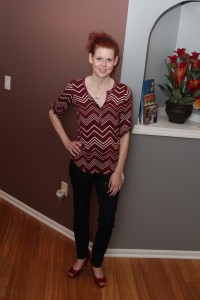 Chevron is my favorite pattern right now and I mentioned that to Kalesa. I also have a lot of chevron clothing pinned. This top fits and looks great. It's also really comfortable. Love!
Just Black Ankle Zip Skinny Jean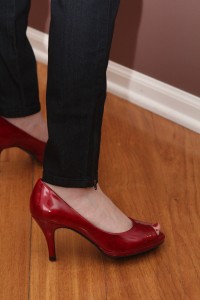 I'm wearing these jeans in all of the above photos. This is the zipper detail – it's hard to see in this photo. I've received a few pairs of Just Black jeans from Stitch Fix and I love them. Very comfortable and their stretchiness makes them fit perfectly. They hold their stretch too – no bagginess at the end of the day. A couple of months ago I gained a bit of weight and increased the pants size on my profile. Well, I lost the weight and forgot to update the size on my profile so these jeans were too big. Boo! I emailed customer service to see if they had the smaller size. They did! I sent these jeans back in the handy dandy prepaid envelope provided with each Fix and had my new pair just a few days later. I love Stitch Fix customer service!
Bajee Collection Arturo Fleece Jacket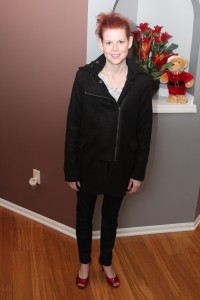 This coat was just okay and I already have a black coat so I really didn't need it. However, since Stitch Fix gives you 25% off your entire order if you keep all five items, I actually would have LOST money if I didn't keep it! So I did. I'll either wear it myself or gift it to someone who will. Win/win!
So there you have it! Five awesome pieces of clothing that I didn't have to leave the house to buy. I love the convenience of Stitch Fix and the fun of being surprised.
(This post contains referral links. If you click on one to sign up for Stitch Fix, I will get a small credit to feed my addiction. Then after you sign up, you can get referrals and credits too! I am not compensated in any other way for this honest review.)