Book Review: For Your Love by Beverly Jenkins

For Your Love by Beverly Jenkins
Publisher: William Morrow Paperbacks
Release Date: April 28, 2015
4 out of 5 stars
Publisher's Description:
Return to Henry Adams, Kansas—an unforgettable place anyone would want to call home. . . .
Mayor Trent July and his wife, Lily, are enjoying life as newlyweds and embracing the challenges and joys that come with being adoptive parents to two wonderful boys. But fatherhood has inevitably forced Trent to think about his own birth mother.
Raised by his grandmother Tamar—and, in many ways, the good people of Henry Adams—Trent was blessed with a childhood full of love. But he can't help wondering what happened to the scared teenage girl who gave birth to him. And questions that he's never voiced are now begging to be answered: Who was she? Is she still alive? Why didn't she want him?
Trent has always believed that no good comes from dwelling on the past, especially when you have a loving family, a strong community, and folks who depend on you. But when the past comes to Henry Adams, Trent has no choice but to face it—and the woman who left him behind. The truth will shake his very being and everything he thought he knew about life, love, and the bonds that hold families together . . . but can also tear them apart.
For Your Love is an utterly charming book about life in the small town of Henry Adams, Kansas. As I live only a few miles from the Kansas border, there were a lot of familiar references, like to watching Chiefs football, that made reading this book even more fun for me.
The overarching theme in this book is the power of community. I love a story where the community rallies together to help people. Several of the children in this book are foster children who have been adopted by residents of the town. As an adoptive parent of a foster child, this warmed my heart, especially because what was mentioned of the foster system was realistic. We all know by now it really bugs me when the foster care system is inaccurately portrayed.
Jenkins's website says that the Blessings series is a faith based women's fiction series. It's not heavy-handed at all though and all of the "good guys" are open minded and forgiving. I haven't read any of the previous five books in the Blessings series but I had no trouble jumping right in with For Your Love. The author does a great job of providing summaries for the characters and situations as part of the story without slowing it down or making it clunky. I want to read the other books now that I've read this one. (I looked at the author's website and she also writes what look like very steamy bodice-ripping romance novels. I'd like to read one of those too – she must have quite a range!)
For Your Love is the perfect book to read when you need a warm, fuzzy feeling – it's definitely a feel-good book.
About Beverly Jenkins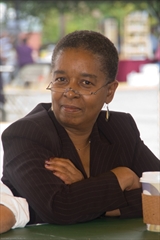 Beverly Jenkins is the author of thirty historical and contemporary novels, including five previous books in her beloved Blessings series. She has been featured in many national publications, including the Wall Street Journal, People, the Dallas Morning News,Vibe, and many other publications.
Find out more about Beverly at her website and connect with her on Facebook.
Check out the other stops on the tour:
Tuesday, June 9th: The Book Diva's Reads
Wednesday, June 10th: Reads for Pleasure
Wednesday, June 17th: Black Page Turners
Wednesday, June 24th: The Reading Cove Book Club
Wednesday, July 1st: Tina Says …
Thursday, July 2nd: I'd Rather Be At The Beach
Monday, July 6th: Sort of Beautiful
Tuesday, July 7th: Chaos is a Friend of Mine
Wednesday, July 8th: lifeofafemalebibliophile
TBD: Rockin' Book Reviews
TBD: Queen of All She Reads
TBD: Imaginary Reads
TBD: Jorie Loves a Story

(I received a complementary review copy of this book.)