Book Review: Immortal Guardians by Eliot Schrefer
Immortal Guardians by Eliot Schrefer
My rating: 2 of 5 stars
Publisher: Scholastic, Inc.
Release Date: August 11, 2015
Age Level: 8-12, Grades 3-7
Publisher's Description:
In the world of Erdas, every child must discover if they will summon a spirit animal, a rare and incredible gift. Conor, Abeke, Meilin, and Rollan were rare even among those few. They summoned legendary animals–brave guardians who were reborn to protect their world.
Now more of these legends are appearing across Erdas, bonded to special children. But a dark force has emerged. Older than memory, it has slept for centuries beneath the surface of the world. With the power to tear away spirit animals, it begins a rampage that will be felt in every corner of Erdas. If the young heroes can't stop it, the darkness will first consume the spirit animals . . . and then the world.
I chose this book because I had heard that the Spirit Animals series was really good. Since this was titled Fall of the Beasts Book 1, I assumed that it was a brand new series within the Spirit Animals family and I would be fine reading it without having read the previous Spirit Animal books. However, it is a continuation of the original series. I'm not sure why they started a new series if it's the same characters and concept as the first series. Seems like they should have just continued the first series. Obviously, I didn't have each characters backstory and I think because of this I had trouble keeping the characters and their animals straight. However, it could have been how the book was written. That aside, this book had non-stop action and was pretty violent but was somehow boring at the same time. There wasn't any break in the action to get to know the new characters introduced in this book, they just showed up and joined the action. It was hard to feel any suspense when I didn't care that much about the characters. Even though most of them had been previously established in the first series, more could have been written about their thoughts and they could have had a little down time to make the reader more invested in what's happening with them.
I gave this book to my boys (ages 9 and 11) to read and both of them put it down about half-way through and didn't pick it up again. They are fantasy fans but prefer a more substantial story. You may enjoy this book if you've read the first series but I'd suggest you read some reviews of this book from people who also have read it. A lot of them didn't like it either – it's not just me.. Read at your own risk!
(I received a complementary review copy of this book.)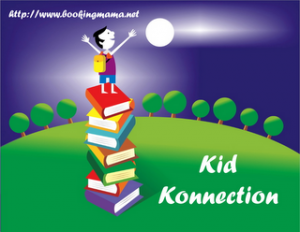 For more reviews of books for children and teens, check out Booking Mama's feature, Kid Konnection, posted on Saturdays. If you'd like to participate in Kid Konnection and share a post about anything related to children's books (picture, middle grade, or young adult) from the past week, you can go to her site to leave a comment and your link .
November 16th, 2015 in
Books