Week-End Ramblings
I've decided to start a new feature whereupon every Friday, Saturday or Sunday, I post something about what I've done during the week, whether or not it's bookish. And I'd like to hear from you about what's going on in your life! You can tell me in the comments or link up a post you want to share. I'm trying to think of a catchy name (let me know if you have suggestions!) so for right now it's just Week-End Ramblings.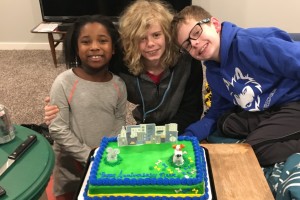 The absolute highlight of the week was my daughter's fifth anniversary of joining our family. She got to choose what we did to celebrate. She prefers store bought cake over my homemade cake (the nerve!) so she picked a Secret Life of Pets cake. The bakery lady thought that was a "very out-of the ordinary" choice for an anniversary cake. I'm sure she assumed it was for a wedding anniversary. Neve chose getting take-out and watching the Johnny Depp version of Willie Wonka and the Chocolate Factory at home. She and West got McDonald's and since Travis, Cash and I have good taste, we got 54th Street. It was fun. Neve has brought so much love and joy to our family, it's nice to take the time to honor that.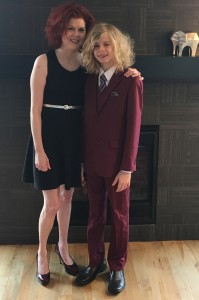 The next highlight was my Mommy/Son date with Cash. We went out to a fancy dinner at McCormick and Schmick's and then to see the show Stomp. Cash got a lot of attention at the restaurant for his dapper outfit.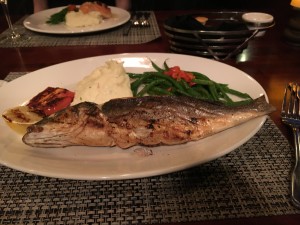 Cash ordered a fish called Bronzini, which came whole. The entire time he was eating it, I had the song Fish Heads in my head. I'm really glad he's grown out of being a picky eater – even if it does mean that his meal is giving me the stink-eye from across the table.
Stomp was great. Cash loved it. He plays the drums and is always pounding on things around the house. It drives me nuts! I'll probably regret taking him if it makes him pound even more, but we had so much fun that it's worth it.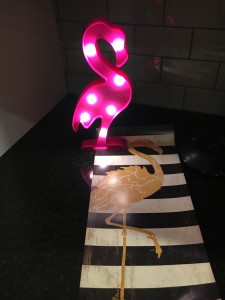 Finally, I got to have lunch with my BFF Nerdy Apple. She brought me these fabulous Christmas gifts and I brought her nothing! Except for some books I had borrowed from her and an ARC of Laura Lippman's new book that I ended up with two copies of. To make it up to her, I bought her lunch. I'm not THAT bad of a friend.
Save
What's going on with you?