Book Review and Author Event: Truly Madly Guilty by Liane Moriarty
Truly Madly Guilty by Liane Moriarty
Publisher: Flatiron Books
Release Date: July 26, 2016
My rating: 5 of 5 stars
Publisher's Description:
Sam and Clementine have a wonderful, albeit, busy life: they have two little girls, Sam has just started a new dream job, and Clementine, a cellist, is busy preparing for the audition of a lifetime. If there's anything they can count on, it's each other.
Clementine and Erika are each other's oldest friends. A single look between them can convey an entire conversation. But theirs is a complicated relationship, so when Erika mentions a last minute invitation to a barbecue with her neighbors, Tiffany and Vid, Clementine and Sam don't hesitate. Having Tiffany and Vid's larger than life personalities there will be a welcome respite.
Two months later, it won't stop raining, and Clementine and Sam can't stop asking themselves the question: What if we hadn't gone?
In Truly Madly Guilty, Liane Moriarty takes on the foundations of our lives: marriage, sex, parenthood, and friendship. She shows how guilt can expose the fault lines in the most seemingly strong relationships, how what we don't say can be more powerful than what we do, and how sometimes it is the most innocent of moments that can do the greatest harm.
Truly Madly Guilty is about three couples who attended a barbecue and SOMETHING happened. Something BAD. But Moriarty does not tell us what that something is up front. Instead, the clues about the incident are slowly revealed along the way. In the meantime, we learn more about the three couples involved through what their lives are like after the barbecue. The chapters alternate between the present day and the barbecue, with the day of the barbecue advancing just a bit each time before the narration goes back to the present day. The full reveal of the incident doesn't come until about halfway through the book. The suspense about killed me!
Clementine is a professional cellist and married to Sam, who works at a white-collar job that he hates. Erika is Clementine's best friend. She's the ying to Clementine's yang – uptight and grim. She's married to Oliver, a quiet sensitive man. The last of the three couples at the barbecue were Vid and Tiffany. Vid is Erika and Oliver's gregarious neighbor, while his wife Tiffany, is a beautiful woman with a secret.
I could not put this book down. As more and more of the barbecue incident was revealed, my stomach knots grew. I was so worked up about what I thought might have happened that I had to restrain myself from flipping ahead to make sure everything would ultimately be okay. I'm not going to tell you whether they were or not!
Moriarty is a master of suspense and the slow reveal. Her books just keep getting better and better. I'm so glad that that she releases a book every year or so and I don't have to wait long to get another dose of her. She is still firmly on my list of favorite authors.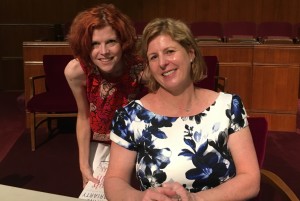 Liane actually came all the way to Kansas City from Australia to promote Truly Madly Guilty (I'm assuming she visited other cities in the U.S. as well but I only care about my city!) I was lucky enough to get to go see her with my bestie Nerdy Apple. It was in way back in September and unfortunately I didn't take very good notes so I'm afraid I can't give you many specifics. I do remember that:
+ She was hilarious, which is not surprising given that there is a fair amount of humor in her books.
+ She went through infertility treatments. Many of her characters in various books of hers deal with infertility and it's written about realistically, which as someone who has also gone through infertility treatments, I have always appreciated.
+ Ann Tyler and Kate Atkinson are two of her favorite authors.
+ Jennifer Aniston is slated to star as Alice in the movie adaptation of What Alice Forgot. I searched for more information on this and the only articles I could find were dated 2015 when the announcement was originally made.. I'm guessing production has not started.
+ And as you probably know by now, Big Little Lies has been made into a limited series and will air on HBO THIS SUNDAY!! I have been invited to an advance screening this tomorrow night. I.Can.Not.Wait. I'll be sure and have a post up about it on Friday.
February 15th, 2017 in
Books