Stitch Fix Saturday!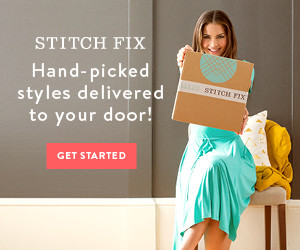 It's been a while since I've posted about one of my Stitch Fix boxes. I'm still getting them every two months and loving it, I just haven't taken the time to write up posts about them. A quick recap of how Stitch Fix works since it's been a while:
Stitch Fix is a online personal shopping service. When you sign up, you fill out a detailed questionnaire with your sizes and style preferences. It even asks you which areas of your body you'd like to accent and which you don't. New since the last time I posted about them is they now carry shoes, plus sizes, petite sizes and men's clothing!
Then you schedule when you'd like your Stitch Fix box to arrive. You can either have it sent to you automatically every month or two or just request a Fix randomly whenever you'd like one. I love it because I love clothes but I'm not a good shopper and with three kids, I don't make the time to shop very often. You can request things from your stylist to include in your Fix so you don't have to go shopping. In the past, I have requested to be sent a few choices of dresses to wear to weddings I knew would be coming up. I also requested a Fix of all pants one time when I was desperate for some pants that weren't jeans. And sometimes, I don't request anything because I want to be surprised! I love that these items come right to my door. Most of the time, the items are things that I would have walked past in the store but end up looking great on me. Like I said, I'm not a good shopper!
Your Fix will include five items. You keep the ones you want and send the rest back in the convenient pre-paid envelope that they include. If you keep all five items, then you get a 25% discount. But don't be disappointed if you don't like every item. That's only happened to me twice! Stitch Fix says their goal is that you'll love 2-3 items. And as your stylist gets to know you better through the feedback you leave, your chances of getting more pieces that you love will increase. So on to what I got this time!
The first three items of this Fix were: 41 Hawthorn  Meera Split Neck Top, Lila Ryan Liza Skinny Jean and Athena Alexander Allegro Square Ballet Flat: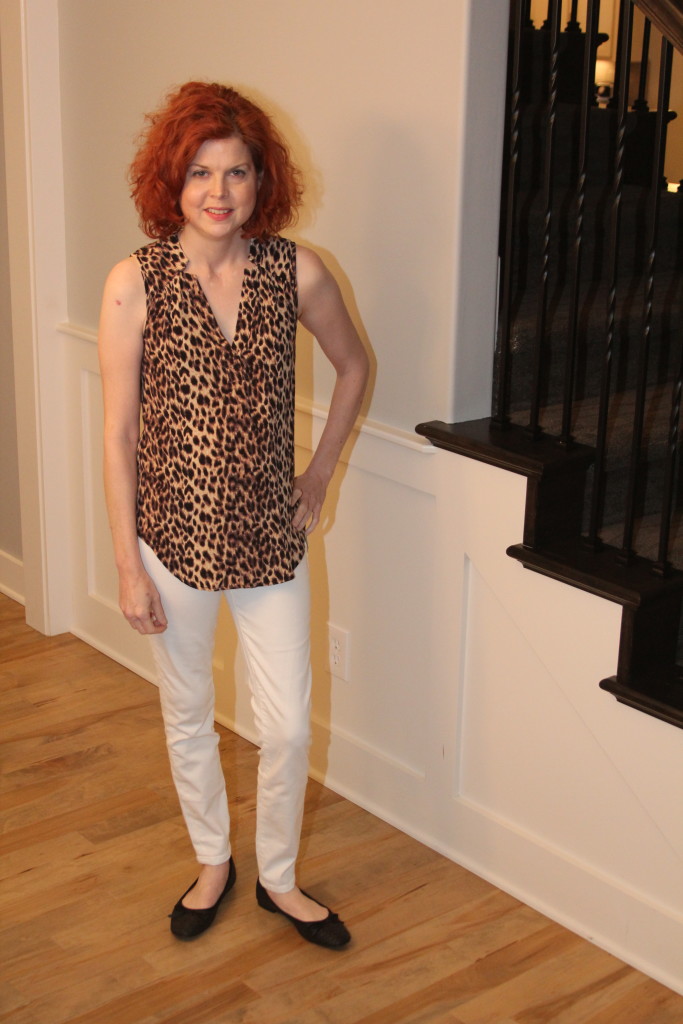 I really like the top. I think the cut is flattering and I've been wanting to add a leopard print top to my wardrobe. KEEP
I also liked the jeans but I had bought a pair of white jeans just a couple of days before this Fix arrived! See, my stylist and I are so in sync – she knew I wanted white jeans and I didn't even tell her. Unfortunately, I was one step ahead of her. RETURN
Here's a close-up of the shoes: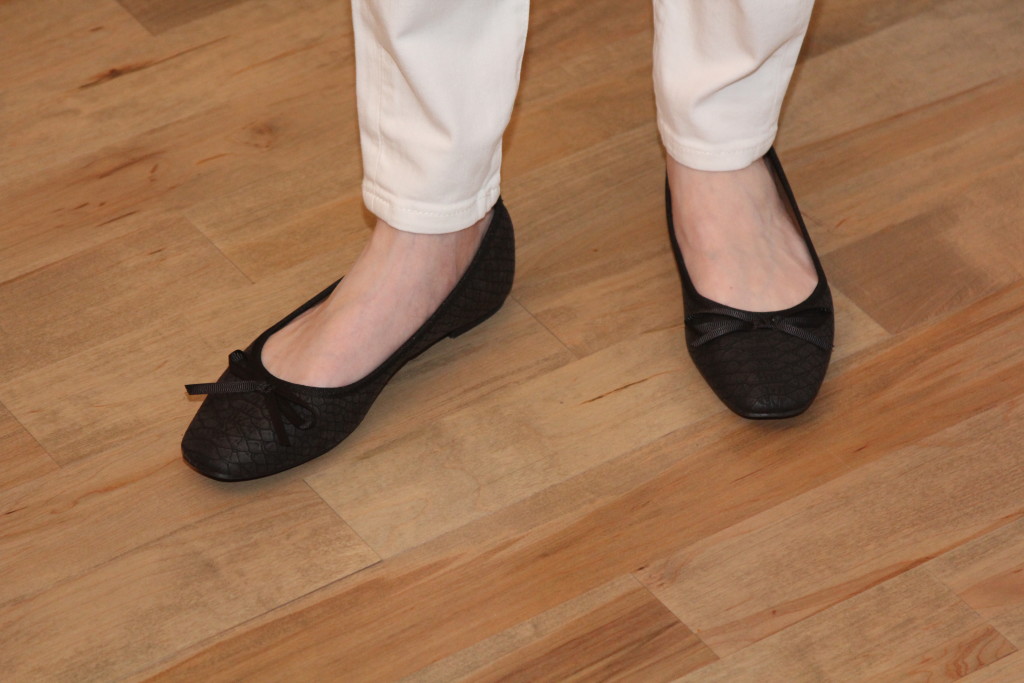 I have been looking everywhere for the perfect pair of black flats. I requested a pair for this Fix and the one my stylist chose comes very close. I love everything about them except for the bows. Friends suggested I keep them and take the bows off but I was too scared that would ruin the shoes so RETURN
Next – Le Lis Grenaa Knit Blazer: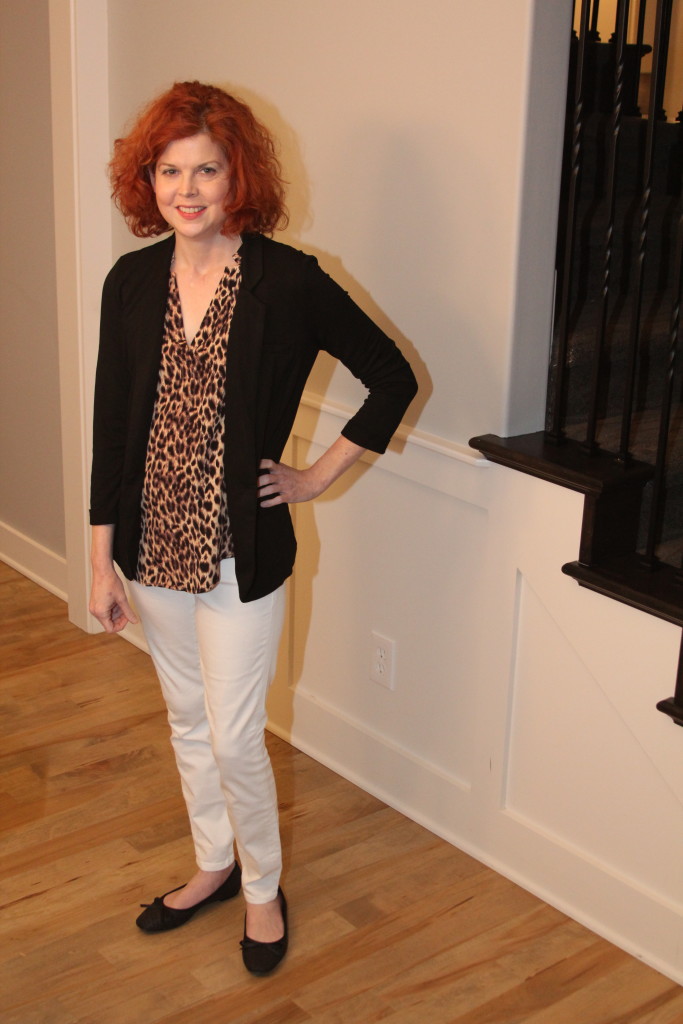 I don't know if I can fully express how much I love this blazer. It's the perfect fit, comfortable and so versatile – for starters it goes perfectly with the leopard top! KEEP
Last, but not least – Skies are Blue Avena Split Neck Top:
This top didn't grab me. I already have a three plaid shirts and something about this one is just not my style. I think part of it is that the colors don't look good on me. And it may be a bit boxy. RETURN
Here's a peek at the style card that comes with each Fix. It gives both a casual and dressy option for styling the pieces in your Fix: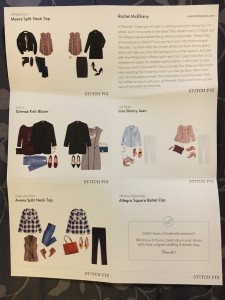 Even though I only kept two items from this Fix, I consider it a massive success. The two pieces I kept are practically perfect for me and I know I'll wear them a lot. And honestly, it would blow my budget if I kept all five items every time! If you'd like to sign up for Stitch Fix, I'd love it if you'd use my referral link. Thanks!