Book Review: How to be a Supervillain by Michael Fry
How to Be a Supervillain by Michael Fry
Publisher: jimmy patterson
Release Date: May 2, 2017 (That's today!)
My rating: 4 of 5 stars
Publisher's Description:
Victor Spoil comes from a long line of famous supervillains and he's fully expected to join their ranks one day. But to his family's utter disappointment, Victor doesn't have a single bad-guy bone in his body. He won't run with scissors, he always finishes his peas, and he can't stand to be messy. Hopeless!
As a last-ditch effort before they give up and let him be a–gasp!–civilian, Victor's exasperated parents send him to apprentice under a disgraced supervillain called The Smear. This matchup starts off as a complete disaster, but Victor and The Smear eventually find that they have a lot to learn from each other. When the stakes get high as Victor is forced to choose between his mentor and his family morals (or lack thereof)…what will the world's nicest bad guy do?
Victor is a disappointment to his supervillain parents. He's polite. He eats his peas. He's tidy. His parents arrange for him to be the apprentice of the supervillain The Smear, hoping that he'll learn to be bad because even though superhero vs. supervillain fights are scripted now, you still have to be a convincing bad guy. That's right – the battles are fake, as fake as the WWE! The real fights were causing too much damage to civilians and their property so The Authority took over and starting regulating the supers' world. And of course the superhero ALWAYS wins. Always. There's just one problem – The Smear is tired of losing. Will he defy The Authority and become a winner?
How to be a Supervillain is the kind of book that most middle-graders love. It has text interspersed with a lot of illustrations, similar to the Diary of a Wimpy Kid books. It also has plenty of gross humor and silliness that kids will love. My 10 year-old saw it on my nightstand and can't wait to get his hands on it. I think middle-grade fans of Diary of a Wimpy Kid, Captain Underpants, or I Funny books will enjoy it.
(I received a complimentary copy of this book for review.)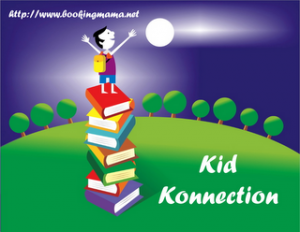 For more reviews of books for children and teens, check out Booking Mama's feature, Kid Konnection, posted on Saturdays. If you'd like to participate in Kid Konnection and share a post about anything related to children's books (picture, middle grade, or young adult) from the past week, you can go to her site to leave a comment and your link .