Zombie Week Book Review: Married with Zombies by Jesse Petersen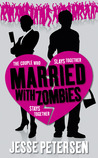 Married with Zombies by Jesse Petersen
Publisher: Orbit
Release Date: September 1, 2010
My rating: 3.5 of 5 stars
Publisher's Description:
A heartwarming tale of terror in the middle of the zombie apocalypse.
Meet Sarah and David.
Once upon a time they met and fell in love. But now they're on the verge of divorce and going to couples' counseling. On a routine trip to their counselor, they notice a few odd things – the lack of cars on the highway, the missing security guard, and the fact that their counselor, Dr. Kelly, is ripping out her previous client's throat.
Meet the Zombies.
Now, Sarah and David are fighting for survival in the middle of the zombie apocalypse. But, just because there are zombies, doesn't mean your other problems go away. If the zombies don't eat their brains, they might just kill each other.
David and Sarah are a couple on the verge of divorce when the zombie apocalypse starts. Now their survival depends on working together.
This is a very light-hearted story as far as zombie books go. Even though people die, it's never really sad. Or scary. And I don't think the author wanted it to be sad or scary. It's fun and suspenseful with bad humor that will make you groan more than laugh. Both the banter between David and Sarah and Sarah's snappy inner dialogue were mostly funny but could get a bit grating at times.
Despite the fact that this review is coming off critical, I did in fact enjoy this book. It's the definition of brain candy. The Lifetime movie equivalent of a zombie book – turn off your brain, read and have fun.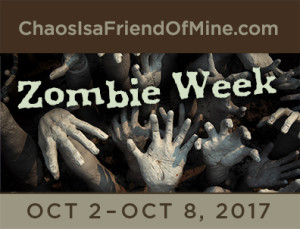 Save
October 3rd, 2017 in
Books