Audiobook Review: Alias Grace by Margaret Atwood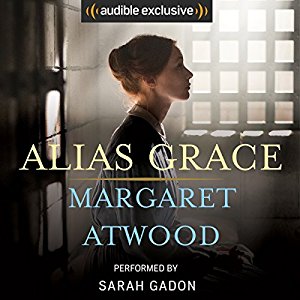 Alias Grace by Margaret Atwood
Publisher: Audible Studios
Narrator: Sarah Gadon
First published in 1996
Audible.com Release Date: November 2, 2017
My rating: 5 of 5 stars
Publisher's Description:
Soon to be a Netflix Original series, Alias Grace takes listeners into the life of one of the most notorious women of the 19th century.
It's 1843, and Grace Marks has been convicted for her involvement in the vicious murders of her employer and his housekeeper and mistress. Some believe Grace is innocent; others think her evil or insane. Now serving a life sentence, Grace claims to have no memory of the murders.
An up-and-coming expert in the burgeoning field of mental illness is engaged by a group of reformers and spiritualists who seek a pardon for Grace. He listens to her story while bringing her closer and closer to the day she cannot remember. What will he find in attempting to unlock her memories?
Captivating and disturbing, Alias Grace showcases best-selling, Booker Prize-winning author Margaret Atwood at the peak of her powers.
I was excited to learn that an audio version of Alias Grace was being released as I wanted to reread it before watching the Netflix series that came out in November and is based on the book. I read the book years ago – pre-blog – and barely remembered anything about it.The book is a fictionalized version of the life of Grace Marks. She is infamous in Canada for allegedly assisting in the murders of her employer Thomas Kinnear and his housekeeper and Grace's supervisor, Nancy Montgomery, in 1843 when she was only sixteen years old. She was sentenced to life and spent part of her sentence in an insane asylum and part in prison.
Atwood invents the character Simon Jordan, a psychiatrist who interviews Grace over several sessions, hoping to find out the truth about her involvement in the murders. He starts with having her tell him about her childhood and work her way up to the time of the murders. Grace has a fantastic memory and is able to tell him the events of her life in great detail. Because of this, we get to know Grace extremely well. And of course, Atwood's prose is beautifully descriptive.
Even though the book is based on a true story, there is still a surprising twist near the end. I appreciated that Atwood included an author's note at the end explaining what parts of the story are based on facts and where she got those facts and what was a product of her imagination.
The narrator of this audiobook did a fantastic job. She used a dreamy, mellow voice for Grace that matched what I thought she should sound like and made it a pleasure to listen to. She was also good at a realistic masculine voices – not always the case for female narrators.
Margaret Atwood is one of my favorite authors and she did not disappoint me with Alias Grace. I hope the Netflix series is as good as the book. I'll keep you posted!
(I received a complimentary copy of this audiobook for review.)
January 17th, 2018 in
Books