Book Review: Room
My rating: 5 of 5 stars
Five year old Jack doesn't know anything of the world but Room. He was born in the eleven by eleven foot space and has never set foot outside of it. His Ma was kidnapped by Old Nick seven years ago and has been held captive in Room ever since. Ma has worked hard to make sure that Jack doesn't suspect that Room is a prison but she doesn't know how much longer she can take being held hostage.
This book was wonderful for so many reasons. I will admit when my book club chose it for one of our monthly selections, I was not looking forward to reading it. Since having kids of my own, I don't have much of a stomach for reading books in which bad things happen to children. Room pleasantly surprised me – as far as Jack is concerned being in Room is not all that bad. Because it's all he's ever known and Ma has carefully sheltered him from knowledge of the outside world, he's actually a pretty happy child. There are definitely some parts of the book that are tough to read but it wasn't as wrenching as I thought it would be.
I really appreciated the attention to detail the author had when writing this book. She actually had her brother-in-law design a scale CAD design of Room and all its furnishings so that she could get an accurate feel for what living in an eleven by eleven room would be like. You can find this design on her website. She did a great job of realizing the many aspects of Jack's development that would be affected by growing up in Room – physical, emotional and intellectual. He was affected in ways I never would have considered myself but that made total sense.
I had the pleasure of hearing Ms. Donoghue speak at an event put on by my local independent bookstore, Rainy Day Books. I can't really get into what she talked about too much because it would spoil the story but it definitely added to my enjoyment of the book to know why she made the choices she did with the direction the plot went and with the way characters were portrayed.
This book led to one of the most robust book club discussions my club has had. The story was so intriguing and thought-provoking; there were all kinds of issues to talk about. I highly recommend this book.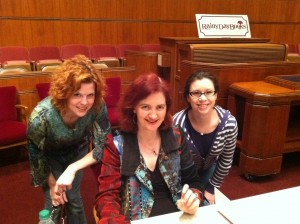 That's me on the left and my bestie Nerdyapple on the right at Ms. Donoghue's book signing.
By this book at:
Amazon
The Kindle Store
Powell's Books
August 8th, 2011 in
Books