2012 Challenge Wrap-Up
Although I didn't do a very good job checking in with my challenges over the course of the year, I did do a good job of completing them. That's more happenstance than planning.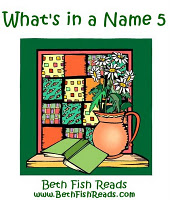 Here's the list for 2012:
1. A book with a topographical feature (land formation) in the title – The Healer of Fox Hollow by Joann Rose Leonard
2. A book with something you'd see in the sky in the title – Mockingjay by Suzanne Collins
3. A book with a creepy crawly in the title – Emmy and the Incredible Shrinking Rat by Lynne Jonell
4. A book with a type of house in the title – Miss Peregrine's Home for Peculiar Children by Ransom Riggs
5. A book with something you'd carry in your pocket, purse, or backpack in the title – Poison Study by Maria V. Snyder
6. A book with something you'd find on a calendar in the title – Winter's Bone by Daniel Woodrell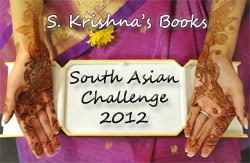 One of my favorite challenges is S. Krishna's Books South Asian Challenge. The year there aren't different levels of number of books to read – everyone sets his or her own goal. I'm setting my goal at six books.
1. The Reluctant Matchmaker by Shobhan Bantwal
2. Tiger Hills by Sarita Mandanna
3. And Laughter Fell From the Sky by Jyotsna Sreenivasan
4. Narcopolis by Jeet Thayil
5. Mumbai Noir by Altaf Tyrewala
6. The World We Found by Thrity Umrigar
7. Jana Bibi's Excellent Fortunes by Betsy Woodman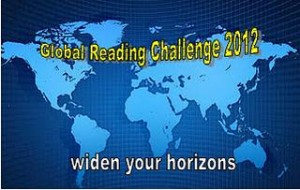 The Global Reading Challenge 2012 is a challenge to read one fiction book from each of the seven continents:
Africa – The Lower River by Paul Theroux
Asia – All the Flowers In Shanghai by Duncan Jepson
Australia
Europe – City of Women by David R. Gillham
North America – Practical Jean by Trevor Cole (Canada)
South America (please include Central America where it is most convenient for you)
The Seventh Continent (here you can either choose Antarctica or your own ´seventh´ setting, eg the sea, the space, a supernatural/paranormal world, history, the future – you name it). – How To Live Safely In a Science Fictional Universe by Charles Yu
The Off the Shelf 2012 challenge is to read books that are on your shelves as of December 31, 2011. I need this challenge in a major way – I have so many books in my TBR pile! I'm signing up for the Trying level which is 15 books.
1. Lover Awakened by JR Ward
2. My Life As a White Trash Zombie by Diana Rowland
3. Poison Study by Maria Snyder
4. The Discovery of Jeanne Baret by Glynis Ridley
5. Come In and Cover Me by Gin Phillips
6. Modelland by Tyra Banks
7. All the Flowers In Shanghai by Duncan Jepson
8. The 19th Wife by David Ebershoff
9. River Town by Peter Hessler
10. If You Were Here by Jen Lancaster
11. Skipping a Beat by Sarah Pekkanen
12. Cybill Disobedience by Cybill Sheperd
13. "Why Are All the Black Kids Sitting Together In the Cafeteria?" by Beverly Daniel Tatum
14.
15.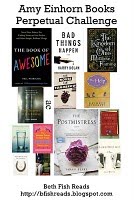 Amy Einhorn Books Perpetual Challenge
Read books published by the Amy Einhorn Imprint.
Read in 2010:
1. The Help by Kathryn Stockett
2. The Gendarme by Mark Mustian
Read in 2011:
1. The Weird Sisters by Eleanor Brown
2.The Girl Who Would Speak For the Dead by Paul Elwork
3. What Alice Forgot by Liane Moriarty
4. If Jack's In Love by Stephen Wetta
Read in 2012:
1. City of Women by David Gillham
2. Let's Pretend This Never Happened by Jenny Lawson
January 1st, 2013 in
Books