Blog Tour and Giveway: Desmond Pucket Makes Moster Magic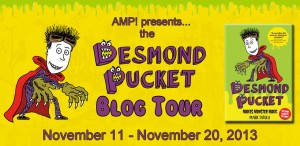 Today I am featuring the book Desmond Pucket Makes Monster Magic by Mark Tatulli.
Meet Desmond Pucket–master of mayhem! Will his monster-y special effects pranks get him kicked out of middle school before the class trip to Crab Shell Pier? Or will Desmond be able to keep his monster magic in check?
Watch the trailer to see more!

Get to know Desmond Pucket, one quirk at a time:
Favorite food: Gummy worms
Best prank: the shrieking rubber goblin in the teachers' lounge toilet
Favorite movie: Alien
Character you'd like to play in that movie: the alien
Name something you find scary: extracurricular activities
Favorite holiday: Halloween (duh!)
What do you want to be when you grow up? Creator of the most amazing and horrifying amusement haunted house rides ever
Favorite author: R.L. Stine. Oh, and Edgar Allen Poe!
Pet peeves: coffee breath and over mascarafied girls
Favorite person: my mom (shut up!)
Least favorite person: my sister Rachel
Zombies or vampires: Definitely vampires
What would you want to be written on your tombstone? Here lies Desmond Pucket, Professor of Frightology and Gourmet of Gore
I'm excited to be giving away a copy of Desmond Pucket Makes Monster Magic to one of my readers with a US or Canada mailing address. Just fill out the form at the end of this post by 11:59PM CST on November 20, 2013. Good luck and check out the other tour stops. Also, stop back tomorrow for my review. Here's sneak preview – I really liked it!
Tour stops:
Monday, November 11th: Buried in Books
Wednesday, November 13th: Laurisa White Reyes
Thursday, November 14th: The Official Desmond Pucket Blog
Monday, November 18th: Geo Librarian
Tuesday, November 19th:  You Can Read Me Anything
Wednesday, November 20th:  Novel Novice
November 12th, 2013 in
Books